The Funny Way Zach Galifianakis Was Pitched To Play The Joker In The Lego Batman Movie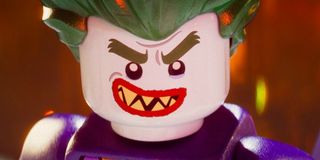 When it was announced that Zach Galifianakis would be playing the Joker in The Lego Batman Movie, the cinematic community instantly agreed in unison that it was a perfect choice. However, it turns out that Zach Galifianakis was actually a little disappointed when he eventually learned that he'd only be voicing the Joker, because he originally believed that he'd be following in the footsteps of Jack Nicholson, Heath Ledger, and Jared Leto. Zach Galifianakis recently recalled being offered the role,
It didn't take Zach Galifianakis long to get over this disappointment, though. Rather than pushing to play a live-action version of The Joker he instead quickly signed on the dotted line just to voice the villain. It was a wise decision, too, because The Lego Batman Movie was met with superlative reviews when it was released back in February, while it also grossed the impressive total of $305.2 million at the box office.
The role of the Joker in the Lego Cinematic Universe promises to be pretty lucrative one for Zach Galifianakis, too. That's because there's every chance that, following on from The Lego Batman Movie's success, a sequel will be ordered; he's almost certainly going to be asked to reprise his role in The Lego Movie 2. He'd better be, otherwise plenty of movie fans will be bitterly disappointed.
While Zach Galifianakis would have been chomping at the bit to sink his teeth into a role that Jack Nicholson made so iconic in Tim Burton's Batman and Heath Ledger won a posthumous Academy Award for following his efforts in The Dark Knight, it was umpteen times easier for him to just record his vocals for The Joker and then allow the animation gurus to do their work.
In fact, Zach Galifianakis was able to record his performance as The Joker in relative luxury, especially in comparison to the usual rigors of production. The Lego Batman Movie's director Chris McKay admitted in the same interview with The West that not only did they travel to Canada at one point to record Zach Galifianakis' vocals, but they also repeatedly recorded additional vocals from Will Arnett, Rosario Dawson, and Michael Cera over Skype.
We'll finally get to see if Zach Galifianakis will reprise his role as The Joker in The Lego Movie Sequel when it's released on February 8, 2019. And considering how easy it is to record his vocals, they really don't have an excuse for not including Zach Galifianakis as The Joker once again. Those of you eager for more Lego movies can take solace in the fact that The Lego Ninjago Movie will be in cinemas on September 22 of this year.
Your Daily Blend of Entertainment News
Thank you for signing up to CinemaBlend. You will receive a verification email shortly.
There was a problem. Please refresh the page and try again.