Did Playing The Joker Have A Role In Heath Ledger's Death? Here's What The Actor's Sister Says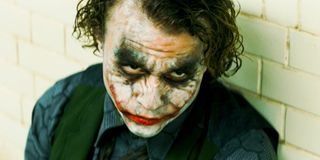 The tragic death of Heath Ledger back in January 2008 was so shocking and surprising that people have continued to speculate over the reasons why he passed away at the age of 28 ever since. Some of this speculation included suggestions that Heath Ledger's fragile state of mind after playing The Joker in The Dark Knight contributed to his untimely passing. But now his sister Kate Ledger has insisted that these rumors are completely untrue. In fact, Ledger has declared that her brother reveled in portraying such a complex and devilish character, and that he loved having the opportunity to do just that. Ledger admitted:
Kate Ledger made this revelation at the Tribeca Film Festival premiere for I Am Heath Ledger, a new documentary that has been made in cooperation with the actor's entire family and takes an extensive look at Ledger's life and career. To show their full support for the film, which has been directed by Adrian Buitenhuis and Derik Murray, Heath Ledger's sisters Kate Ledger and Ashleigh Bell not only conducted interviews for it, but they also attended the premiere and took part in a question and answer session after it, too.
According to the Daily Beast, it was during this discussion that they dismissed the speculation surrounding Heath Ledger's death. Matt Amato, who is a filmmaker that co-founded the production company The Masses alongside Heath Ledger and Sara Cline, even revealed that one of the main reasons those closest to the actor decided to participate in the film was to clear up the gossip and the "really terrible things about Heath out there." Ashleigh Bell admitted that once I Am Heath Ledger had come together, and those closest to Heath had discussed his mind set while working on The Dark Knight and after the film had been released, she was left "confused" by all of the rampant rumors that had suggested portraying The Joker had somehow led to his death. Bell remarked:
Kate Ledger also chimed in on the rumors surrounding the months, weeks, and days before her brother's death, and in fact she summed it up rather well when she said of Heath Ledger's work on The Dark Knight:
Heath Ledger was found dead in his Manhattan apartment on the afternoon of January 22, 2008. An autopsy and toxicology report later revealed that his death was accidental, and that it was the result of mixing a number of prescribed medications. Over a year after his death, Heath Ledger's roundly lauded performance as The Joker in The Dark Knight saw him posthumously given the Academy Award For Best Supporting Actor, while it was yet further confirmation that he would surely have gone on to reach even greater heights if the tragedy hadn't occurred.
Your Daily Blend of Entertainment News