Wait, Is Luke Skywalker Wearing A Kyber Crystal In Star Wars: The Last Jedi?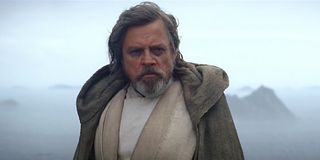 Lightsabers have been one of pop culture's most famous fictional weapons for decades, but it's only been in recent years that we've learned about what powers them in the official Star Wars canon. After being seen in the Clone Wars animated series, last year's Rogue One: A Star Wars Story introduced kyber crystals in live action, only in this story, the crystals were being taken by the Empire to power the Death Star's superlaser. Now a rumor suggests that Luke Skywalker may be wearing one these around his neck in Star Wars: The Last Jedi. But it's not just any kyber crystal; supposedly it belonged to Darth Vader.
It's being reported that in Star Wars: The Last Jedi, Luke Skywalker will be seen wearing a cool necklace that was described to Making Star Wars as being shaped like a "dog whistle" when looked at from afar. However, the interesting part of this is that at the bottom of the necklace, a red crystal can be seen sticking out. It's unclear whether this necklace will significantly connect to The Last Jedi's story or if it's just a design choice for Luke, but for now, whether or not that is indeed a kyber crystal encased underneath is not confirmed.
While it's certainly possible that this necklace is intended to discreetly call back to Darth Vader, the chances of the crystal actually once belonging to Darth Vader aren't strong. Although Darth Vader ignited his crimson blade to slaughter Rebel scum in Rogue One, chronologically the last time we saw Vader's lightsaber was in Return of the Jedi, when he was fighting his son in the Emperor's presence on the second Death Star. Vader lost that lightsaber when Luke chopped off his hand, and the lightsaber was seen falling into the energy well that Vader later tossed Palpatine into. If that didn't destroy the lightsaber, the giant space station exploding not long after did the trick.
However, that doesn't necessarily mean that that was Vader's only lightsaber. Perhaps he kept another laying around, and it's this one that Luke disassembled to procure the red kyber crystal. Keeping in mind how Kylo Ren will be taking steps to emulate granddaddy Darth Vader in Star Wars: The Last Jedi, that crystal might be too good of a souvenir to pass up stealing if he spots it, even though he already has his own lightsaber. As MSW noted, the idea of Anakin Skywalker's lightsaber, i.e. the one Rey delivered back to Luke Skywalker at the end of The Force Awakens, being locked with in combat with a lightsaber being powered by Darth Vader's kyber crystal would be an amazing moment.
Whether he's keeping one of his dad's keepsakes or not, you can look forward to Luke Skywalker having more to do when Star Wars: The Last Jedi hits theaters on December 15.
Connoisseur of Marvel, DC, Star Wars, John Wick, MonsterVerse and Doctor Who lore. He's aware he looks like Harry Potter and Clark Kent.
Your Daily Blend of Entertainment News
Thank you for signing up to CinemaBlend. You will receive a verification email shortly.
There was a problem. Please refresh the page and try again.