Why Will Ferrell's Excellent Romy And Michele's High School Reunion Cameo Was Cut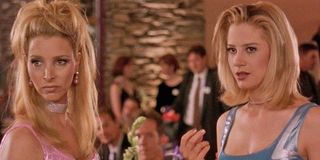 Back in 1997, Will Ferrell was still simply regarded as a talented member of the Saturday Night Live cast. But while most moviegoers first took notice of his comedic prowess after his cameo as Mustafa in Austin Powers, it turns out that he nearly had his breakout role in Romy And Michele's High School Reunion. So what happened? It turns out director David Mirkin had to cut Will Ferrell's scene because it didn't fit in the film and was was just too cruel to Mira Sorvino's character. David Mirkin recently recalled,
It's actually little surprise that David Mirkin was able to convince Will Ferrell to appear in Romy And Michele's High School Reunion, as the director at the time was the showrunner and executive producer on the fifth and sixth seasons of The Simpsons, which are firmly regarded as the pinnacle of the show's history. During his chat with Yahoo Movies, David Mirkin also provided further details on what Will Ferrell's cameo in Romy And Michele's High School Reunion entailed. The scene was going to feature Ferrell as a waiter who Romy pays to call her on her cell phone in an attempt to look important.
David Mirkin explained that the reason they looked to include the cell phone plot in the film was because, back in 1997, having such a device was seen as a status symbol. The scene was set shortly after Mira Sorvino's Romy is busted by her former classmates for not actually inventing Post-It notes, as she claimed. It turns out that the talent of the actors involved ultimately led to the scene being cut, because Mira Sorvino and Lisa Kudrow were too likeable as the titular characters. The director insists that test audiences were in hysterics thanks to Will Ferrell's performance in the sequence, though, but sadly it didn't manage to make it into the finished cut.
This year is the 20th anniversary of Romy And Michele's High School Reunion, which was released on April 25, 1997, and the film is still as sweet and hilarious as ever. Even with its lack of Will Ferrell. For those who want to revisit the film, the movie is available on Blu-ray and DVD.
Your Daily Blend of Entertainment News
Your Daily Blend of Entertainment News
Thank you for signing up to CinemaBlend. You will receive a verification email shortly.
There was a problem. Please refresh the page and try again.