This Incredibly Creative Movie Theater Proposal Will Give You All The Feels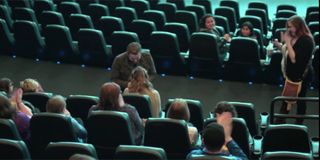 The world is full of all kinds of proposals. What most of those proposals have in common are being heartfelt, but occasionally we hear about a proposal that is so outside-the-box and perfect we just have to share it with you. A young man named Ryan Langston proposed to his girlfriend Adrianna Neil at a movie theater, but it involved much more than just going down on one knee. Check it out.
I used to have Disneyland passes, so I've actually been privy to quite a few public proposals in my day. All the proposals I've seen, including my own, have been emotional, but Ryan Langston's proposal to Adrianna Neil is really incredibly creative. Not only did Langston put a ton of work into the video, which first comes off like an ad and works its way into relationship-specific details so that Ms. Neil slowly becomes aware of what's happening around her, he also had to convince a movie theater that it was a good idea to play the video in the first place. That's a level of commitment to a project that is pretty admirable. Now, I just wonder who he got to narrate the whole thing for him so she didn't recognize the voice.
If you didn't get a chance to watch the video, I love how affectionate Ryan and Adrianna are even before she realizes what is about to happen. She kisses his hand and leans back, preparing for the movie, but it only take a short while before she realizes it is their story that is being shared on the big screen. By the time the segment finishes playing in the moderately crowded theater, pretty much everyone else realizes what is happening and invests in the moment, too.
It can be a gamble to make such a public proposal such as this one, but clearly Ryan Langston was confident enough in Adrianna Neil's answer to go for a big moment. She obviously said yes, making for a memorable moment for them, and likely many of the other people who were watching in the movie theater.
And in case you were wondering, the couple went to the theater that night to catch Beauty and the Beast. She went, thinking it was an early 26th birthday present from her beau. Per The Huffington Post, the couple both love movies, and Langston thought it would be a great way to make their proposal memorable. Hopefully, the wedding will be equally so. They plan to marry in September of 2018, and as is noted in the video, they'd really love to do their honeymoon in Italy or Spain.
Reality TV fan with a pinch of Disney fairy dust thrown in. Theme park junkie. If you've created a rom-com I've probably watched it.
Your Daily Blend of Entertainment News
Thank you for signing up to CinemaBlend. You will receive a verification email shortly.
There was a problem. Please refresh the page and try again.