Why Diane Keaton Hadn't Watched The Godfather In 30 Years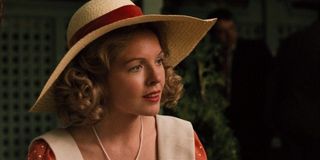 While Diane Keaton might not be the first name that comes to mind when you think about The Godfather, her performance as Michael Corleone's long suffering wife Kaye Adams is still a fine and memorable turn in the classic movie. It turns out that Diane Keaton herself has actually been disregarding her work in The Godfather, too. The legendary actress has now admitted that, until recently, she hadn't watched The Godfather in around 30 years because she always saw herself as the outsider in the film. Diane Keaton admitted,
Of course, Diane Keaton isn't wrong with her assumption, because Kay Adams-Corleone is one of the few non-Italian characters in both The Godfather and The Godfather Part II. In fact, Kay Adams is constantly kept at arms length regarding the family business throughout the films, and as things escalate throughout the second movie, the audience even sees her become a prisoner in her own home. Still, The Godfather is a movie that's on cable fairly often, and you'd have at least expected Diane Keaton to have a quick peek at her performance at some point over the last thirty years, especially since she's in the iconic final shot of the first film.
Diane Keaton admitted at the Tribeca Film Festival that she finally sat herself down to re-watch The Godfather for the first time in three decades recently. As you'd expect the actress was blown away by just how engrossing and gripping the gangster epic was, especially because she still found herself overwhelmed by the film even though she was watching it on a computer. Diane Keaton recalled,
Diane Keaton made the above revelations during the emotional reunion of The Godfather's cast and crew at the closing night of The Tribeca Film Festival on Saturday night, which came after the first two films were screened back to back over an absorbing 7 and a half hour period. As well as Diane Keaton, Al Pacino, James Caan, Robert De Niro, Robert Duvall, Talia Shire and co-writer and director Francis Ford Coppola took part in the wide-ranging discussion, which was hosted by director Taylor Hackford and was supposed to last 45 minutes but actually went on for an hour and twenty. I will forever be thanking my lucky stars that I was in attendance at the once in a life-time event, and stay glued to CinemaBlend over the next few days for further stories and revelations from the panel.
In addition, Paramount will release all three films in the epic Godfather crime saga on Blu-ray, DVD and Digital HD on Tuesday, May 9.
Your Daily Blend of Entertainment News
Thank you for signing up to CinemaBlend. You will receive a verification email shortly.
There was a problem. Please refresh the page and try again.