The Limehouse Golem Trailer Has Bill Nighy And A Serial Killer Plot, Enough Said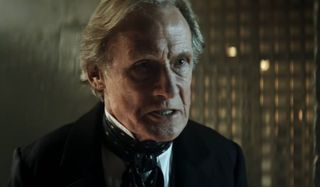 By this point we all know that Bill Nighy can do no wrong. Even when he pops up in abominations like I, Frankenstein, he's able to offer a glimmer of hope to moviegoers. So the fact that he's leading the way as a detective out to solve a number of murders in the upcoming British horror-thriller The Limehouse Golem should be enough to get his legion of fans very excited indeed. Especially since The Limehouse Golem looks particularly creepy and terrifying. You can check out the first footage from the film below.
I'm sold, but not just because of the presence of Bill Nighy, although that undoubtedly helps. But there's actually a whole host of impressive talent that's working on the film, too, none more so than writer Jane Goldman, who over the last few years has worked her magic on the likes of Kick-Ass, X-Men: First Class, The Debt, Kingsman: The Secret Service and its impending follow-up The Golden Circle for Matthew Vaughn. She has also written Miss Peregrine's Home For Peculiar Children for Tim Burton, too, as well as The Woman In Black, which back in 2012 proved she was quite handy within the period horror genre.
For this film, Jane Goldman has adapted Peter Ackroyd's 1994 murder mystery novel Dan Leno and the Limehouse Golem, while Juan Carlos Medina will follow-up his 2012 debut outing Painless behind the camera. It's not just Bill Nighy that's emanating star appeal for The Limehouse Golem, as he'll be joined by the hugely promising and quickly rising Olivia Cooke, who charmed and delighted in Me, Earl, And The Dying Girl in 2015 to such an extent that she's leading the way in Steven Spielberg's Ready Player One next year. Also involved is Douglas Booth, who has popped up in Noah, The Riot Club, Jupiter Ascending and Pride And Prejudice And Zombies.
The plot of The Limehouse Golem revolves around a series of murders that shake the local community to its very core. So much so, in fact, that those who live close by soon start to speculate that a legendary creature from the dark times known as Golem must be responsible for the deaths. But while this line-up of talent look as though they've done some sublime work on The Limehouse Golem, something that's backed up by its early reviews from the Toronto Film Festival, it's hard not to get a little misty-eyed about the film because it was originally supposed to star Alan Rickman. Tragically, the British thespian had to leave The Limehouse Golem due to his declining health, and he ultimately succumbed to Pancreatic cancer on January 14, 2016.
The Limehouse Golem is dedicated to Alan Rickman, and we'll finally get to see if it something he'd be proud of when it's released at some point later this year. We're still waiting to learn of an exact release date, though.