Why Power Rangers 2 Might Not Happen After All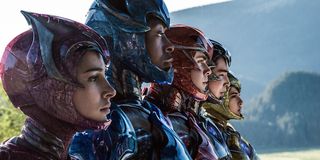 As the Power Rangers franchise continues to thrive on television after more than two decades, this past March saw the release of the Power Rangers movie, which was a modern re-imagining of the original Mighty Morphin' Power Rangers TV series. Critically, the blockbuster starring teenagers with attitude earned mixed reviews, but it also showed promise of kicking off a series of morphenomenal cinematic adventures. Commercially, however, Power Rangers underperformed, and now it looks like that may significantly decrease the chances of a sequel being made.
Both Power Rangers and King Arthur: Legend of the Sword opened in China yesterday, and while King Arthur earning $1.5 million its first day is more indicative of how that movie is expected to bomb everywhere, Power Rangers fared even worse, taking in only $1.2 million. Looking at Power Rangers' domestic performance, it opened admirably with over $40 million, but all together it's only collected close to $85 million stateside. Combine that with international ticket sales, Power Rangers' worldwide gross is only about $135 million right now. It made back its $100 million budget and a little extra, but these numbers definitely don't bode well for a potential Power Rangers 2, especially with its poor China debut.
Forbes predicts that Power Rangers will end its run with a worldwide gross of $145 million, which includes how much it will earn when it opens in Japan later this year. So while it's technically earning money for Lionsgate, overall it's a "money loser" once it finishes showing in theaters and heads to home media. Keep in mind that this isn't official confirmation that Power Rangers 2 won't happen, but movie-making is a business, and if Power Rangers didn't make enough money for the studio, it's hard to imagine a sequel being green-lit, especially since the chances of it performing better than its predecessor are extremely slim.
Warning: Power Rangers spoilers are ahead!
While Power Rangers wrapped up relatively neatly with Jason, Kimberly, Billy, Trini and Zack accepting their roles as superheroes who pilot giant robotic beasts, it did tease a follow-up by name-dropping Tommy Oliver, a.k.a. the Green Ranger in Mighty Morphin' Power Rangers. Rita Repulsa also proclaimed before being defeated that others would come for the Zeo Crystal, suggesting that Power Rangers 2 could introduce Lord Zedd or another alien menace from the original TV series. In fact, Lionsgate was looking beyond just one sequel, as Haim Saban said there is a six-movie arc planned. Considering how little money Power Rangers earned, it's doubtful those plans will come to fruition.
Power Rangers is still playing in theaters across the country. It will be available on Digital HD starting June 13, and the Blu-ray/DVD release will follow on June 27.
Connoisseur of Marvel, DC, Star Wars, John Wick, MonsterVerse and Doctor Who lore. He's aware he looks like Harry Potter and Clark Kent.
Your Daily Blend of Entertainment News
Thank you for signing up to CinemaBlend. You will receive a verification email shortly.
There was a problem. Please refresh the page and try again.