This Rotten Week: Predicting Alien: Covenant, Diary Of A Wimpy Kid 4, And Everything, Everything Reviews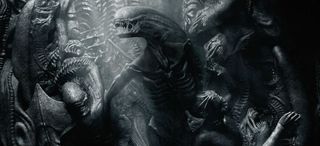 There's a little something for everybody coming out this week, as the sci-fi crowd, kids and young adults all get a taste of something on the big screen. Soon coming to a theater near you we have Alien: Covenant, Diary of the Wimpy Kid: The Long Haul and Everything, Everything. It's gonna be a Rotten Week!
Just remember, I'm not reviewing these movies, but rather predicting where they'll end up on the Tomatometer. Let's take a look at This Rotten Week has to offer.
The Alien franchise is back with another installment of their "reboot", this time following the timeline after Prometheus (72%) with another doomed group of cosmonauts making a bad decision to explore other worlds in Alien: Covenant. This one looks in lock-step with previous chapter of the series, though that isn't necessarily a bad thing. The horror/sci-fi movies have a long, complicated track record - and the latest is testing well early, sitting at 75% through more than 100 reviews.
Ridley Scott is back directing Alien: Covenant after helming Prometheus as well as recent flicks like (the good) The Martian (92%) and (the bad) Exodus: Gods and Kings (27%). Covenant looks like it will land with the good group for sure, and if the trailer is suggestive of anything, this looks just as creepy and hair-raising as what we've come to expect from the franchise.
The Diary of A Wimpy Kid folks got smart early with this franchise, and with its young cast getting older, it and decided to just overhaul the whole cast. Considering the book series is set within in a relatively short period of time, the "Wimpy Kid" was starting to look more and more like a "Wimpy Adult". As such, Jason Drucker replaces Zachary Gordon as Greg Heffley and the rest of the cast gets overhauled as well in Diary of a Wimpy Kid: The Long Haul. I don't know if they needed to go that far, but the whole series gets a new look going forward. I like the strategy, and doubt fans really care when it's all said and done.
The other films in the series, Diary of a Wimpy Kid (53%), Rodrick Rules (47%) and Dog Days (51%) all did well enough with critics without every actually being hits. The flick looks fun and I suspect it lands in the same zone as its predecessors.
Based on the novel of the same name, Everything, Everything tells the story of a young girl who is house bound thanks to a sever immune deficiency issues that basically makes her allergic to life. That is of course until she meets a boy who inspires to bring her out into the big, bad world. We've had a bunch of sick or dying teens films/shows in recent years, and they've proven that they can work if given the right gravity and grounding. I'm not convinced that will be the case with this one.
Everything, Everything looks a little too much like it wants to tug on the emotional (and love story swoon) heartstrings at every turn, and I predict that it's an atmosphere that winds up driving critics towards negative reaction.I don't think it completely bombs with critics, simply because the story is too vanilla to really make people hate it. But I can't imagine anyone but some lovesick teens really taking to anything in the story.
I went one for two with predictions last week, with King Arthur: Legend of the Sword (Predicted: 57% Actual: 27%) being a huge miss. This one is likely going to bomb on all fronts. The box office numbers are looking abysmal out of the gate, and the reviews are much worse. CinemaBlend's Dirk Libby went through some of the mistakes and what the film borrowed from other (better) films. Other critics weren't any more forgiving calling it a "medieval mess", "fractured and fumbling" and "brutal" to say just a few. It isn't looking good for what the studio likely hoped could be a franchise.
Meanwhile, I was right on it with Snatched (Predicted: 44% Actual: 37%) which left the critics feeling rather mediocre on the comedy side. Like I said in my write up, comedies can be a tough critical nut to crack mostly because they either need to be a completely new take on something or work on an emotional level. This doesn't appear to have done either. Amy Schumer has shown she can work a solid comedic full-length movie, but this one was too full of hijinks and schtick for critics to see much redeeming value.
Next time around we've got Pirates of the Caribbean: Dead Men Tell No Tales and Baywatch. It's gonna be a Rotten Week!
Doug began writing for CinemaBlend back when Terminator: The Sarah Connor Chronicles actually existed. Since then he's been writing This Rotten Week, predicting RottenTomatoes scores for movies you don't even remember for the better part of a decade. He can be found re-watching The Office for the infinity time.