Yondu Just Got A Mary Poppins Funko Pop, And It's Amazing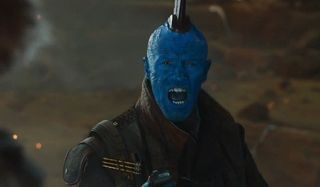 One of the most popular scenes from Guardians Of The Galaxy Vol. 2 was the sight of Yondu using his Yaka Arrow as an umbrella to float down to Planet Ego, which immediately led Peter Quill to compare him to Mary Poppins. Unaware of who exactly Mary Poppins is, Yondu's enthusiastic declaration of, "I'm Mary Poppins y'all," produced arguably the biggest laugh of the entire film. Since the film's release, fans have looked to continue the overlap, even petitioning for Michael Rooker to cameo in Mary Poppins Returns. Now a Funko customizer has taken that extra step and created a Funko Pop that imagines Yondu as Mary Poppins, and as you could probably have guessed, it is utterly superb.
I think we can all admit that every single one of us needs the above figurine in our lives immediately. Kudos to Funko Pop! Customizer for creating the toy, which has now shot to the top of my Christmas list, even though it is still over 7 months away. In fact, the creation of this toy means that all of the adorable figures of Baby Groot suddenly have a serious rival in the battle to be crowned the greatest piece of Guardians Of The Galaxy Vol. 2 memorabilia. Obviously Dancing Baby Groot still wins, though, because nothing can compete with those moves.
SPOILER: The article is about to discuss such huge SPOILERS for Guardians Of The Galaxy Vol. 2 so if you haven't seen the film, then you almost certainly shouldn't read ahead. You have been warned.
Of course, while the sight of Michael Rooker's Yondu inadvertently replicating one of the most iconic moments in movie history was a particular highlight of Guardians Of The Galaxy Vol. 2, it was soon topped by Yondu and Peter Quill finally acknowledging the paternal bond that existed between them and then Yondu sacrificing himself in order to save Quill. It was a very emotional experience for all involved, the impact of which has seen Yondu turn from a cult character in the first Guardians Of The Galaxy film, who seemed more of an inconvenience to Chris Pratt's Star-Lord rather than the father figure he'd ultimately blossom, to one of the most popular heroes in all of the Marvel Cinematic Universe.
Fans of Yondu, Guardians Of The Galaxy and Funko Pop! now have the perfect creation to celebrate their love of all three, while those of you that think you can sit through Yondu's demise again can still contribute to your overall Guardians Of The Galaxy Vol. 2's pop culture collection. If you don't think you can watch Guardians a second time, then you can also check out CinemaBlend's full movie schedule for 2017 to figure out your next trip to the theater instead.
Your Daily Blend of Entertainment News
Thank you for signing up to CinemaBlend. You will receive a verification email shortly.
There was a problem. Please refresh the page and try again.