Logan Contains A Deleted Scene That Ties Into X-Men Origins: Wolverine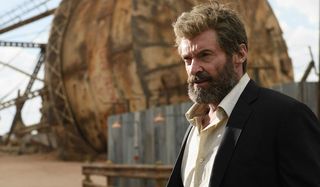 No matter what happens within the comic book movie genre for the rest of the year, 2017 will always be remembered as the year in which Hugh Jackman finally hung up his claws. Wolverine went out in a blaze of glory at the end of James Mangold's Logan, and the film's impact on the X-Men universe will be felt for years to come. The final cut of the movie features only a select few references to Hugh Jackman's other forays in the X-Men world, but a reported deleted scene from Logan suggests that the film initially included a direct reference to Liev Schreiber's Sabretooth from X-Men Origins: Wolverine.
New details about the upcoming Logan Blu-ray release have hit the web (via Screen Rant), and they seem to suggest a vital connection between Hugh Jackman's final outing as Wolverine and his worst outing as the clawed badass. Specifically, the scene takes place towards the end of the movie when Wolverine manages to get Laura (Dafne Keene) to her friends. One of the escaped mutants plays with action figures of Wolverine and Sabretooth and proceeds to ask the aging Logan whether or not Victor Creed was real. From there, Wolverine admits that his sworn enemy did exist, and he then recounts the event of X-Men Origins: Wolverine to describe what William Stryker (the Danny Huston version, that is) did to the estranged brothers. This ultimately ties into Logan's final moments, in which the same boy can be seen holding a Wolverine action figure during the legendary hero's funeral.
It's somewhat upsetting to learn that this simple reference couldn't make it into the final cut, as Liev Schreiber is easily one of the highlights of the lackluster Origins. Rumors associated with Logan suggest that Schreiber was at one point going to cameo as Sabretooth for a brief scene, but that idea was ultimately left out of the film. Like it or not, X-Men Origins: Wolverine is still an important moment in Wolverine's cinematic backstory, and a reference to him would've gone a long way towards tying everything together.
Then again, there's also an argument to be made that Logan is ultimately better for its lack of continuity to the other X-Men films. Sure, the R-rated Wolverine finale maintains a few key connections to the overarching X-Men mythos (such as a reference to the Statue of Liberty set piece from the original film), but the film generally exists outside of time itself and feels like a Marvel "What If" story. By keeping the story away from the familiar, James Mangold and Hugh Jackman were able to take considerably more risks and make bolder creative decisions. In the end, a reference to Sabretooth might not have been worth the risk.
Now that we know that the Logan deleted scenes will feature a reference to a fan-favorite villain like Sabretooth, I think it's safe to say that we cannot wait to see what other special features are waiting in store for the film's home release. Logan is now available on Digital HD, and the Blu-ray will hit shelves on May 23.
Your Daily Blend of Entertainment News
Originally from Connecticut, Conner grew up in San Diego and graduated from Chapman University in 2014. He now lives in Los Angeles working in and around the entertainment industry and can mostly be found binging horror movies and chugging coffee.