This Rotten Week: Predicting Baywatch And Pirates Of The Caribbean: Dead Men Tell No Tales Reviews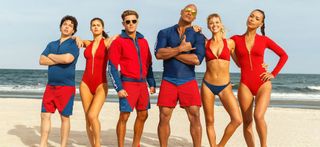 Oh baby. We are headed into Memorial Day Weekend and have a couple of studios fighting it out for the blockbuster to start of mid-summer. We've got Baywatch and Pirates of the Caribbean: Dead Men Tell No Tales coming soon to a theater near you. It's gonna be a Rotten Week!
Just remember, I'm not reviewing these movies, but rather predicting where they'll end up on the Tomatometer. Let's take a look at This Rotten Week has to offer.
Full of slow-motion runs and bouncing boobs, Baywatch is a cultural touchstone of the late 20th century (for better or worse) - but the movie version of the show is hard to get feel for. On the one hand, it looks like it should work a la 21 Jump Street or Starsky & Hutch - where the filmmakers are somewhat making fun of the thing that was once cool. On the other hand, it takes nuance to make that work. While I want to believe Dwayne Johnson can make anything positive, this one might be pushing the limits.
Director Seth Gordon's has had an interesting career. Horrible Bosses (68%) did fine enough, Identity Thief (19%) was a total mess, and King of Kong: A Fistful of Quarters (97%) is one of the best documentaries you'll ever see. So yeah, the dude's been all over the map. I think Baywatch is a money grab for the guy . While it looks fun, I can't imagine it finishes well with critics.
You know what I need a little more of in my life? Johnny Depp in scarves. It just seems like that time of year. The weather's getting warmer, the ale's getting colder, and this guy just needs to be around swashbuckling his way towards another paycheck. That's how you know it's truly a summer season. Fortunately, Depp is now back as Captain Jack Sparrow in the fifth addition of the Pirates of the Caribbean franchise, and in Dead Men Tell No Tales he's going toe-to-toe with Javier Bardem.
The Pirates of the Caribbean franchise started off okay with Curse of the Black Pearl (79%), but look at the trend starting with Dead Man's Chest (54%) and continuing with At the World's End (45%) and On Stranger Tides (32%). It's been a downhill ride with these movies and critics. I can't imagine this latest reverses the trend. It just looks like more of the same shenanigans without any real payoff. Sure Johnny Depp has solidified himself as the main attraction, but I don't think that enough to sway critics.
It was just a so-so week for the Rotten Watch last time out. I had a head start on Alien: Covenant (Predicted: 76%, Actual: 73%), so I can't take any kind of real credit there. It looks like a worthy (if unspectacular) addition to the franchise. Critics seemed rather polarized (despite the score) on the flick in that there were very few down the middle reviews. Those who loved it went all in, while the others kind of hated it. I get the possible fatigue on the franchise at this point, but it still finished in the mid 70's, which is no easy feat.
I missed bad on Diary of a Wimpy Kid: The Long Haul (Predicted: 43%, Actual: 19%), which I thought would follow along the same critical arc as its predecessors. That wasn't the case, with critics walking away massively disappointed. What a shame for a franchise that was hovering around the middle (good enough considering the source material) and basically hammering checks.
Finally, I missed out on being in range with Everything, Everything (Predicted: 32% Actual: 43%) by one lousy percent. I'm tempted to call this a win, but rules are rules. The story of a girl who can't leave the house and a boy who desperately wants her to leave the house because of love scored just a tick higher that I thought. It's a movie we're bound to forget by summer's end and critics scored it just about down the middle.
Next time around we've got Wonder Woman and Captain Underpants. It's gonna be a Rotten Week!
Doug began writing for CinemaBlend back when Terminator: The Sarah Connor Chronicles actually existed. Since then he's been writing This Rotten Week, predicting RottenTomatoes scores for movies you don't even remember for the better part of a decade. He can be found re-watching The Office for the infinity time.
Your Daily Blend of Entertainment News
Thank you for signing up to CinemaBlend. You will receive a verification email shortly.
There was a problem. Please refresh the page and try again.