T.J. Miller Compares Underwater To Two Classic James Cameron Films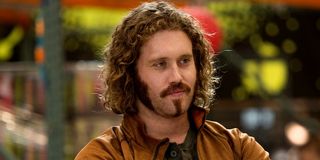 T.J. Miller is on a bit of a roll at the moment. In recent months he has appeared in Deadpool, was a key comedic cog in Office Christmas Party, was hired by Steven Spielberg for Ready Player One, and later this summer will voice the lead role in The Emoji Movie. Most recently Miller has been working on a disaster film entitled Underwater alongside Kristen Stewart and Vincent Cassel, which he has now tantalizingly compared to two of James Cameron's finest films, The Abyss and Aliens. The actor recently explained,
T.J. Miller made these remarks to me when I sat down with the actor to talk about The Emoji Movie on Monday in New York City. The topic arose because the Silicon Valley, Deadpool, and Big Hero 6 star was discussing how he is always intrigued when a director or film is so keen on him, as it immediately makes him aware that he or she is looking to take a project in a quirky and alternative direction, because of his unique comedic sensibilities.
Clearly that's exactly what director William Eubank (The Signal) and writer Brian Duffield (Insurgent) are planning to do with Underwater, as alongside T.J. Miller the movie has acquired quite an eclectic and impressive cast for the disaster film. As well as T.J. Miller, Underwater will star Kristen Stewart, Jessica Henwick, Vincent Cassel, John Gallagher Jr., Mamoudou Athie, and Gunner Wright. Underwater revolves around a group of underwater researchers that have to suddenly try and get back to safety following a devastating earthquake that wrecks their subterranean laboratory.
While the first announcement for Underwater, which announced that the film would start production in April, provided us with the above information, T.J. Miller's comments make it sound as though the earthquake might also release something from the depths of the Earth that then goes on to cause our nautical scientists stress. While production on Underwater started last month, and will almost certainly continue for the next couple of weeks, we're still not exactly sure when it will be released into cinemas. 20th Century Fox has tentatively given us a date of 2018, so that means it will hopefully be with us much sooner than later. Which is great news, because Miller's comments and description immediately have us very excited about what the film will entail. Those of you that want to see something else to be excited by should check out CinemaBlend's full 2017 movie schedule for tips.
Your Daily Blend of Entertainment News