Kristen Stewart's Latest Being Described As An Underwater Armageddon, And We're So On Board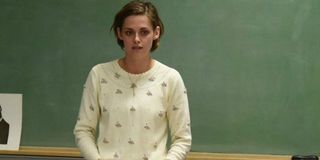 Over the last few years, and after the success of Twilight, Kristen Stewart has been on a mission to show off her full range as an actress. The likes of Personal Shopper, Clouds Of Sils Maria, Certain Women and Café Society have shown us just that. But it now looks as though Stewart is moving back to the mainstream as she is set to star in a high-concept sci-fi thriller that's been described as an underwater Armageddon. That noise you just heard was the collective sound of late 90s action buffs taking notice.
The Hollywood Reporter has alleged that Kristen Stewart is currently in negotiations with Twentieth Century Fox to star in Underwater, which is being produced by Chernin Entertainment. Will Eubank, who previously co-wrote and directed 2014's The Signal for Focus Features, will direct Underwater. Kristen Stewart will have to decide soon, too, because the plan is for production to begin on Underwater in March in New Orleans.
Underwater will revolve around an underwater scientific crew that, following an earthquake, are forced to partake in a dangerous nautical journey for survival. If Kristen Stewart does sign on the dotted line to appear in Underwater, then she will play the film's lead, who has been described as a hardened and jaded crewmember.
Kristen Stewart's last role in a big-budgeted Hollywood film came in Snow White And The Huntsman, and before that she rose to fame thanks to her performances as Bella Swan in the five Twilight films. Between 2008 and 2012, Twilight, New Moon, Eclipse, Breaking Dawn -- Part 1, and Breaking Dawn -- Part 2 grossed over $3.3 billion at the box office, and turned Kristen Stewart and her co-lead Robert Pattinson into two of the hottest properties in Hollywood.
Since Kristen Stewart has spent the last few year focusing on a variety of lower budget and more independent movies, there must really be something about Underwater that has struck a chord with her. Either that or she's just a huge Armageddon fan. Which is completely understandable, because the 1998 Michael Bay behemoth, while admittedly flawed and stupid, is still a ridiculous amount of fun. Since it has been described as an underwater Armageddon, we can only hope to see nautical version of the scenes below.
You just have to love Michael Bay, haven't you? Haven't you!? With Underwater eying a production start date of March, there's every chance that it could be with us as early as 2018. That all depends on whether Kirsten Stewart says yes, though.
Your Daily Blend of Entertainment News
Thank you for signing up to CinemaBlend. You will receive a verification email shortly.
There was a problem. Please refresh the page and try again.