Why Joss Whedon Is The Perfect Choice for Justice League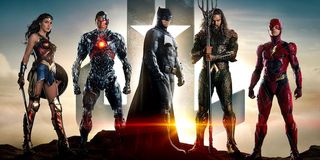 It was announced earlier today that longtime DC director Zack Snyder is stepping down from Justice League to spend more time with his family following his daughter Autumn's suicide back in March. Rather than delay Justice League's release, Snyder turned to Buffy the Vampire Slayer creator Joss Whedon to complete the post-production work and oversee reshoots. It's extremely unfortunate what's happened to the Snyder family and we offer our deepest sympathies. This is something that no parent, sibling or loved one should have to suffer through. Still, as far leaving Justice League in capable hands, there's no one better to fill Zack Snyder's shoes than Joss Whedon, who's built a career off this kind of genre work.
It's worth noting that even before Zack Snyder decided to leave Justice League, he'd recruited Joss Whedon to write some additional scenes. So having Whedon take over is a logical decision since he's already involved in the production. Why seek out another director when you already have one of the best in the business attached? But even if Whedon wasn't already involved in Justice League, look at the man's resume. He's based the majority of his career on genre fiction, i.e. sci-fi, fantasy and horror tales. From movies like Serenity (which continued his Firefly saga) and Cabin in the Woods to TV fare like Buffy the Vampire Slayer and Dollhouse, the man has proven on numerous occasions how talented he is working on tales steeped in mythology, especially when they star ensembles. Picking up on Justice League where Snyder left should be relatively easy for him, especially since he's already spent time with Snyder learning about the DCEU and its important superheroes.
Then there's Joss Whedon's invaluable work on the Marvel Cinematic Universe. While one doesn't need to have previous superhero movie experience to make a good superhero movie, for Whedon it's a blessing. In addition to directing 2012's The Avengers and 2015's Avengers: Age of Ultron, he also directed the post-credits scenes for Thor and Captain America: The Winter Soldier, as well as did rewrites for Captain America: The First Avenger and Thor: The Dark World. Even though his time with Marvel is done, Whedon laid important groundwork for the MCU that's still being touched upon in Phase Three. Now he can take what he learned in the MCU and strengthen the DCEU to the best of his ability working on Justice League. It is worth noting that Warner Bros president Toby Emmerich said that Whedon will still be adhering to the tone and style that Snyder established for Justice League, but there may still be certain ways he can leave a unique mark on this franchise.
Let's also not forget that Joss Whedon's DCEU contributions won't end with Justice League. In late March, it was announced that he'll be writing and directing a Batgirl movie, which is reportedly influenced by Gail Simone's New 52 comic book run. By overseeing the rest of Justice League, Whedon can get a head start on learning about the DCEU and nail down how he wants to tackle Barbara Gordon's solo adventure. We don't doubt he still would have done a tremendous job had his Justice League responsibilities not increased, but extra time with Batman and his Super Friends will be enormously beneficial.
Whether or not you like Zack Snyder's DC movies, we can all agree that he and his family have suffered an incredible loss. Had things been ideal, Snyder would be seeing Justice League through to the end. But if you must turn to someone else to finish the movie, Joss Whedon is a great man for the job. He's a master at character work, something which Justice League needs to excel at. Even though Whedon is building off the hard work Snyder has poured into this blockbuster for more than a year, we're optimistic that Whedon's past experience means he can strengthen the existing material being edited together and put his own spin on the upcoming reshoots. There's a lot riding on Justice League to be successful, and through Zack Snyder and Joss Whedon's combined efforts, the likelihood of this being an excellent product increase tremendously.
Justice League is still scheduled to hit theaters on November 17.
Connoisseur of Marvel, DC, Star Wars, John Wick, MonsterVerse and Doctor Who lore. He's aware he looks like Harry Potter and Clark Kent.
Your Daily Blend of Entertainment News
Thank you for signing up to CinemaBlend. You will receive a verification email shortly.
There was a problem. Please refresh the page and try again.