The Top Gun Sequel Is A Bad Idea, Here's Why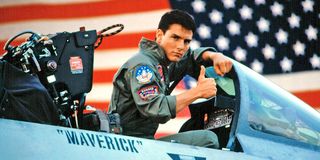 For the last 30 years, Top Gun fans have wondered whether or not Tom Cruise would ever hop back into the cockpit of an F-14 for a sequel to the late Tony Scott's 1986 classic. The action icon has spent much of his career avoiding most types of franchises outside of Mission: Impossible, but the last few years have seen him commit to more sequels and series with unprecedented focus. That commitment culminated in the recent announcement of a Top Gun sequel beginning production as early as next year -- which has left us with seriously mixed emotions. We love Top Gun, and we love the legacy that the original film has developed, but this seems like a terrible idea. Allow me to explain.
When viewed in its entirety, Top Gun revolves heavily around the theme of closure. Maverick spends the entire movie puzzling over what happened to his father (a fellow aviator) during a battle in the Vietnam War. That sense of anguish is compounded throughout the film by the death of his navigator, Goose, and his need to be the "best of the best" in the Navy's Top Gun program. It's an effective, character-driven arc, and all comes to a close by the time the film's credits roll. Maverick learns that his father died a hero in a dogfight, he learns to move on from his guilt over Goose's death in their jet wash, and he lets go of his ego enough to settle down with Charlie in Miramar, California and become a Top Gun instructor. In the final moments of the movie, he literally flies off into the sunset in a jet, happy with who he is and who he has become.
That's the problem that a Top Gun sequel will face: it will ultimately have to justify its existence, and I'm not sure that it even can. The first film's story is super tight, with a neat beginning, middle, and end. What can Top Gun 2 do that Top Gun didn't accomplish? Show a group of fighter pilots proving their superiority over drones? That's Stealth. Could it show Tom Cruise taking a younger group of cocky fighter pilots under his wing? That's basically Independence Day: Resurgence. There are directions to take a sequel, but arguably none of them I can think of would be worth it in the long run because the first film still stands on its own merit.
Beyond that, Top Gun's special effects, sound design, and aerial photography all hold up to this day. Over thirty years later, and the dogfight between Maverick and Viper remains one of cinema's coolest and most nail-biting sequences -- leaving little to update in terms of visuals or VFX.
It's also worth mentioning that the odds are simply not in this movie's favor. Sequels, reboots, and remakes of classic action movies from the 1980s and 1990s have a startlingly bad track record, as the weight of expectations and the legacy of the original almost always bogs them down. Couple that with the fact that Top Gun is a quintessential product of its time (channeling a gung-ho patriotism and machismo of the Reagan era) and it's hard to see a place for Maverick and his hotshot wingmen in today's silver screen landscape.
Just look at the recent remake of Red Dawn for an example of this idea. The 2012 update took the core concept of the original, transplanted it to the current socio-political landscape, and it ultimately fell flat with audiences. Now we have to differentiate between the 1984 classic and the 2012 stinker. Creating a follow-up to a beloved movie always runs the risk of tarnishing the original's legacy, and that's a huge gamble for a relatively small payoff.
Of course, at this point all Tom Cruise has managed to do is confirm the development of Top Gun 2. Where the project goes from here is anyone's guess, but we will bring you more information related to the sequel as new details become available to us. For now, you can catch Tom Cruise when The Mummy debuts in theaters next month on June 9 and kicks off Universal's brand new Dark Universe.
This poll is no longer available.
Your Daily Blend of Entertainment News
Originally from Connecticut, Conner grew up in San Diego and graduated from Chapman University in 2014. He now lives in Los Angeles working in and around the entertainment industry and can mostly be found binging horror movies and chugging coffee.
Your Daily Blend of Entertainment News
Thank you for signing up to CinemaBlend. You will receive a verification email shortly.
There was a problem. Please refresh the page and try again.