This Rotten Week: Predicting Wonder Woman And Captain Underpants Reviews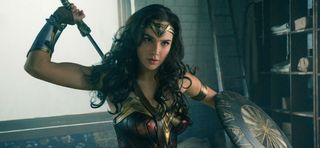 There are some weekends of the year that you know are just going to be huge - and we have one coming up. The world is currently completely infatuated with superheroes, and in a few days we will be getting a double dose of them, albeit in very different forms. Get ready for the live-action badass-ness of the DC Extended Universe's Wonder Woman, and prepare to get incredibly silly with the animated Captain Underpants.
Just remember, I'm not reviewing these movies, but rather predicting where they'll end up on the Tomatometer. Let's take a look at This Rotten Week has to offer.
The DC Extended Universe had a rough 2016, with both Batman v Superman: Dawn of Justice and Suicide Squad getting shellacked by professional critics. As a result, many have viewed the franchise as being in serious trouble - but now it looks like Patty Jenkins' Wonder Woman is here to potentially save the day. Early reactions are overwhelming positive (at least in the Twitter-verse), and this could be the bounce back that the DC world has been waiting for. It's been a slog for other flicks to find the right tone and footing for these comic book movies, but it looks like this one gets it right.
Wonder Woman is director Patty Jenkins' first feature film since the critically acclaimed Monster (82%) all the way back in 2003, though she's accumulated a bunch of TV credits since then. This one could keep her high on the Tomatometer. It stands to reason the early good vibes translate to a solid final score.
Turning your elementary school principal into an underpants-wearing superhero seems like pretty much the dream of anyone slogging through the mundanity of school existence - and that's exactly what's happening here in the adaptation from the insanely popular Captain Underpants book series. This movie has been a long time coming, considering the hype around the franchise in elementary school classrooms, and it looks like it will hit on enough of the comedic beats from the source material to really work.
Captain Underpants has come up on some parents' radars because they feel it toes the line on some language and content. But for me that kind of attitude in the source material makes it even more appealing. Kids love these books, and I think critics will wind up being just fine with the big screen version. Director David Soren helmed Turbo (67%), a somewhat underrated kids' flick. I think this one ends up in the same range, with it appealing to its target audience and crossing over for the adults.
I was one for two last week with my predictions, though I'd like to think I won on both (if I'm generalizing). The loss was Baywatch (Predicted: 38% Actual: 19%), which is bombing on a pretty epic level right now. I get that it was never going to be a critical darling, but finishing sub-20% while also losing at the box office is a pretty big blow for Dwayne Johnson and company. I think the folks wanted it to end up in that 21 Jump Street range of remakes that had crossover appeal while also being funny as hell. It doesn't look like they got there, and this one is on its way to the bottom of the sea.
Speaking of bottom of the sea, Pirates of the Caribbean: Dead Man's Chest (Predicted: 24% Actual: 32%) finished right in range of my prediction. These things have been on the steady decline for some time now and the latest didn't do anything to reverse the trend. Disney hit it out of the park with the first one, but there's definitely franchise fatigue going on here with critics, and the Tomatometer scores seem to be getting lower each time around. That led to a win with the prediction.
Next time around we've got It Comes at Night, Megan Leavey and The Mummy. It's gonna be a Rotten Week!
Doug began writing for CinemaBlend back when Terminator: The Sarah Connor Chronicles actually existed. Since then he's been writing This Rotten Week, predicting RottenTomatoes scores for movies you don't even remember for the better part of a decade. He can be found re-watching The Office for the infinity time.