The Crazy Number Of Cars Edgar Wright Used For Baby Driver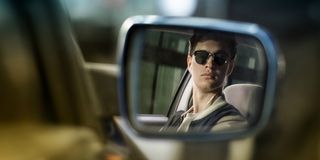 In the same way that you have to break a few eggs in order to make an omelette, when you're making a film that involves a myriad of car chases and a few bank heists, you're going to go through quite a few automobiles. That's something that Edgar Wright experienced during production on Baby Driver, his action, heist, gangster thriller, with a tinge of musical thrown in there for good measure, too. It turns out that Edgar Wright needed quite a few cars in order to make Baby Driver as Sean Ryan, who helped to modify them for filming, has revealed that they had to acquire 150 cars for the director to use. Sean Ryan explained,
Sean Ryan made this admission to me and a group of other film journalists when we travelled down to Atlanta to check out filming on Baby Driver last year. During our discussion with Sean Ryan, who is listed as the film's picture car coordinator, he made sure to emphasize that all of the stunts performed were practical, while he also noted that Edgar Wright is very particular with the script. This meant that certain action sequences, and maneuvers from the cars in the film, were meticulously described in the script, while he'd also picked out the specific cars that he wanted, as well.
The first trailers for Baby Driver have proven that the film has Edgar Wright's cinematic imprint all over it. Which is unsurprising considering that the germ of the idea actually originated from Edgar Wright himself all the way back in 2003, when he directed the music video for Mint Royale's Blue Song. Over the last 14 years, Wright (Shaun of the Dead, Hot Fuzz) has evolved and expanded this idea, and the result is a film that looks unlike any other we have seen in years.
Baby Driver revolves around Ansel Elgort's Baby, a hugely talented getaway driver that works for Kevin Spacey's Doc, a mysterious kingpin who oversees a group of bank robbers. This crew includes Jamie Foxx, Jon Hamm, Jon Bernthal, Eiza Gonzalez, and Flea. Baby soon starts to try and get out of his life of crime after he meets the girl of his dreams Debora (Lily James), however that is much easier said than done, as he still owes a debt to Doc. If that description isn't good enough for you then the latest trailer for Baby Driver should do just the trick.
Looks superb. The early buzz following its world premiere screening at South By Southwest back in March is that Baby Driver should be one of the standout films of 2017, and we'll get to see if it's just that when it is released on June 28.
Your Daily Blend of Entertainment News