This Long Video Actually Finds Plenty Of Stuff Wrong With Logan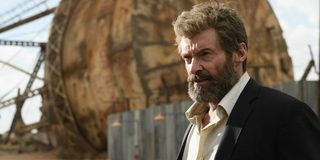 Believe it or not, Logan is not a perfect movie. Hugh Jackman's final outing as Wolverine is a fantastic X-Men story, but that doesn't make it flawless. With that in mind, a new video has surfaced showing exactly where Logan falters in its storytelling, and it really leaves no stone unturned. Check out the video below to see for yourself.
Now that we have all had the opportunity to sit through that video from CinemaSins, let's unpack what we saw. Yes, despite the fact that it's arguably one of the best superhero movies of the last few years (if not of all time), Logan has a few problems with cliches, logic gaps and glaring plot holes. There are the seemingly minor issues, such as the fact that Logan somehow manages to put on a white shirt after a battle without any of the blood seeping into it. There are the somewhat odd moments, like The Reavers never shooting the tires out on Wolverine's limo as he makes his escape with Laura and Professor X. Then, finally, there are the downright flawed moments -- such as the ultimate (and somewhat polarizing) reveal of X-24 in the Munson house around the film's midpoint. All in all, this video paints a picture of a movie that (even with its incredible strengths) has flaws that are worth pointing out in the name of proper film criticism.
Having said that, we need to take this time to juxtapose the issues pointed out in this video with the glaring plot holes exposed in other comic book movies. Logan has flaws, but James Mangold still managed to craft one of the most tightly orchestrated and heartwrenching superhero movies ever committed to film. When compared to films like X-Men: Apocalypse or Batman V Superman: Dawn of Justice, it's a bonafide work of art. In fact, the movie is so good that Wade Wilson himself even recently participated in a Screen Junkies Honest Trailer to sing Logan's praises. Do you have any idea how rare it is for Deadpool's main character to talk about something related to Wolverine with a positive spin? That's how you know Logan is a good movie.
At the end of the day, even with its handful of flaws, Logan is still a watershed moment in the history of comic book movies. As the final X-Men movie to feature Hugh Jackman as the clawed mutant badass, the film effectively closes a prosperous chapter of 20th Century Fox Marvel history. With the Wolverine character now retired for the foreseeable future, we will see many significant changes take place within the next few years. Specifically, it has even been rumored that Dafne Keene's X-23 may get a solo movie of her own at some point. Hugh Jackman may be gone, but it's clear that he left this universe on a solid note and in good hands.
Logan is now available on Digital HD and Blu-ray. We will bring you more information related to the future of the X-Men franchise as more details become available. Until then, take a look at our 2017 movie premiere guide to keep yourself up to date on the rest of this year's theatrical releases.
Originally from Connecticut, Conner grew up in San Diego and graduated from Chapman University in 2014. He now lives in Los Angeles working in and around the entertainment industry and can mostly be found binging horror movies and chugging coffee.
Your Daily Blend of Entertainment News
Thank you for signing up to CinemaBlend. You will receive a verification email shortly.
There was a problem. Please refresh the page and try again.