Chris Pine's Got An Issue With Marvel's Avengers: Infinity War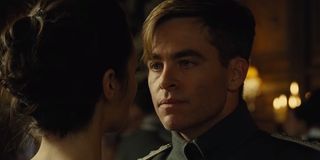 Some moviegoers like to imagine that those that star in DC Films are constantly at odds with Marvel stars, and vice versa. For the most part, that's far from the case. But Chris Pine has looked to stoke the flames between the two comic-book factions a little bit, by poking fun at the title for the upcoming Avengers: Infinity War. Chris Pine, who was out promoting his role as Steve Trevor Wonder Woman, recently admitted that he wasn't a fan of the title for the next Avengers film. He questioned whether it meant that it was a "war for all time." Chris Pine explained,
Chris Pine's comments were far from an attack on the Marvel Cinematic Universe. Instead, it was more of a funny little dig. In fact, it's hard to criticize the Star Trek and Hell Or High Water actor for his remarks, especially as Avengers: Infinity War is a bit of a silly title. Even if the Infinity in the title is actually referring to the "Infinity Stones" that Thanos is so eager to get a hold of rather than the concept of endlessness.
What's more important is the remarks that came before Chris Pine specifically mentioned Infinity War to Screen Slam. With a myriad of superhero movies and comic-book adaptations on the way, it is only going to get more and more difficult for these blockbusters to set themselves apart. Wonder Woman managed to do just that, not just through its period setting (the film unfolds during the First World War), but also because Warner Bros went about making sure its depiction of the super-heroine was honest and refreshing. This included hiring a female director in Patty Jenkins, while also making it feel like a singular story, rather than just another piece of a seemingly never-ending puzzle.
The result has been rather spectacular, as Wonder Woman has been met with tons of positive reviews. So much so that it currently has a score of 93% on Rotten Tomatoes, meaning that it's easily the most successful installment of the DC Extended Universe yet. You can see why that's the case by watching the trailer for Wonder Woman right underneath these very words.
Wonder Woman is now in cinemas across the United States, while director Patty Jenkins has already teased that a sequel is on the cards, too.
Your Daily Blend of Entertainment News
Your Daily Blend of Entertainment News
Thank you for signing up to CinemaBlend. You will receive a verification email shortly.
There was a problem. Please refresh the page and try again.