This Rotten Week: Predicting The Mummy, It Comes At Night And Megan Leavey Reviews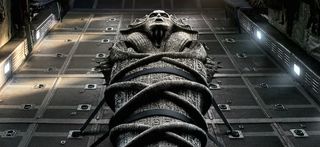 The movie world is coming down off of an extreme cinema high this weekend thanks to the massive success of Wonder Woman - but that doesn't mean that Hollywood is running short on action, adventure and thrills this summer. Following up last week's big superhero adventure we have three big new releases arriving in theaters this weekend in the form of The Mummy, It Comes At Night and Megan Leavey. It's going to be a Rotten Week!
Just remember, I'm not reviewing these movies, but rather predicting where they'll end up on the Tomatometer. Let's take a look at This Rotten Week has to offer.
For a movie about the resurrection of an Ancient Egyptian goddess wrapped up in a sarcophagus, The Mummy has all the hallmarks of your standard Tom Cruise fare. In fact, it kind of looks more like a Mission: Impossible flick than anything else. If the trailer didn't lead and end with reminders about the fantasy parts of the film, you might forget that this is the film that is being used to launch a whole new cinematic universe. The question, of course, is whether or not Cruise's star power can help drive this one to become a hit.
Director Alex Kurtzman has plenty of blockbuster experience under his belt, having been a writer and producer on many major franchise films in the past, but The Mummy marks only his second directorial outing after the drama _People Like Us _(54%). It's hard to get a read on exactly how critics will react to this one, as there aren't any reviews logged just yet, but I predict they may not love the balance of Tom Cruise to monster movie that this film seems to be offering.
I'm not really a "prepper" so I can't tell you exactly what I would do in a civilization collapse. That being said, Joel Edgerton's character in the new horror film It Comes At Night definitely seems like he is entirely ready for the end of the world, and it looks like the actor may be adding another outrageously good thriller credit on his resume while doing so.
Writer/director Trey Edwards Shults' contained thriller about a family quarantining themselves from a deadly disease has come out of the gate strong with critics. At the time of this article's publiciation, It Comes At Night is sitting at 90% through 10 reviews - with many of them praising the pacing, which builds dread out of the story of isolation. It looks creepy as hell (blood oozing from people's mouth will do that), but the terror seems mostly wrapped in the unknown. That's often the most bone-chilling.
Hollywood has had many hits in the past courtesy of war-time settings and animal-centric stories - and it looks like we'll be getting two for one with the release of Megan Leavey, starring Kate Mara. The film is the true story of its titular heroine and her relationship with her bomb-sniffing dog Rex, as they navigate tours through Iraq and post-war life after being injured in combat. Thus far, critics have received the film warmly, forgiving some of it's more pressed-on emotional moments, and recognizing it as a solid story with real gravity about the bonds of friendship and pain of war.
A movie like Megan Leavey could easily have veered off into cheesy territory, but that doesn't look like the case. Making a war movie isn't ever easy because the real life stakes are so high and any mistreatment of the subject can go awfully wrong and quick. Fortunately, it doesn't look like that's the case here. Director Gabriela Cowperthwaite continues the animal theme to her career after detailing the issues with raising orcas in captivity in Blackfish (98%), and this one could end up with a similar score if the early reactions are an indication.
Unfortunately, I missed on both of my predictions for the major movies released last week - but the silver lining is that it was because both films wound up being better than I expected. Wonder Woman (Predicted: 80%, Actual: 94%) was a lot better than I thought, and is now the flagship the DC Cinematic Universe. It crushed with critics, mixing action, story and humor to craft a truly fun comic book movie. I don't know if it completely resets some of the previous misses in this franchise, but it's at least a beacon of hope leading into Justice League.
Meanwhile, Captain Underpants (Predicted: 55%, Actual: 86%) surprised the hell out of me. This one crushed its reviews. For a non-Pixar film, this is really rarified air. This isn't to say that other studios can't do warmly-received animated films, but they come few and far between. Critics loved the adaption, and repeatedly praised it's ability to entertain the adults who are no doubt accompanying their kids to the theater.
Next time around we've got 47 Meters Down, All Eyez on Me, Cars 3 and Rough Night. It's gonna be a Rotten Week!
Doug began writing for CinemaBlend back when Terminator: The Sarah Connor Chronicles actually existed. Since then he's been writing This Rotten Week, predicting RottenTomatoes scores for movies you don't even remember for the better part of a decade. He can be found re-watching The Office for the infinity time.
Your Daily Blend of Entertainment News
Thank you for signing up to CinemaBlend. You will receive a verification email shortly.
There was a problem. Please refresh the page and try again.