Why Jurassic World 2 Will Be Scarier Than Jurassic World, According To Colin Trevorrow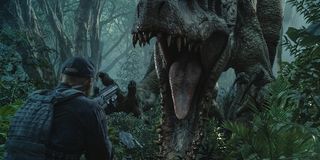 Ever since it was announced that Colin Trevorrow would only be writing Jurassic World 2 and handing over directing duties to J.A. Bayona, it has been declared by everyone involved that the film is going to be much, much scarier than its predecessor. Colin Trevorrow has been more than happy to admit as much, too. The Safety Not Guaranteed and Jurassic World director has now gone into more details about exactly how Jurassic World 2 will be scarier with J.A. Bayona at the helm, detailing the skills that the Spaniard has brought to the sequel. Trevorrow explained to us in an exclusive chat:
Colin Trevorrow made this admission to me when I sat down with the filmmaker to discuss his latest film The Book Of Henry on Monday in New York City. He's a ridiculously busy filmmaker. After the release of Jurassic World back in 2015, Trevorrow immediately set out to work on The Book Of Henry, as well as writing Jurassic World 2, and then working on a little known indie number by the name of Star Wars 9, too. During my discussion, I decided to quiz him on what we can expect from Jurassic World 2.
This provoked Colin Trevorrow to go into detail about exactly why J.A. Bayona was the perfect choice to follow him in the director's chair for the film, especially as Trevorrow believes that the duo are cinematic kindred spirits. Colin Trevorrow then went on to reveal how Bayona's films, The Impossible and A Monster Calls, have evolved the horror genre, and said Jurassic World 2 will improve the scares of the first film, as well as take the story and world to new places, all while still including the attributes that made Jurassic World so hugely popular in the first place. During our conversation, Trevorrow continued:
Of course, J.A. Bayona has quite the task on his hands to try and make sure that Jurassic World 2 matches its predecessor. That's because Jurassic World was a smash hit when it was released in June 2015, and at the same time even broke the record for the highest opening weekend gross, before ultimately coming to a stop at $1.6 billion. It's still currently the fourth highest-grossing film of all time. We'll get to see if Jurassic World 2 can come anywhere near to this total when it is released on June 22, 2018.
Your Daily Blend of Entertainment News