How The New Darth Vader Comic Book Improves A Key Revenge Of The Sith Scene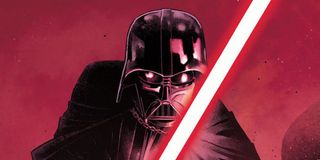 Although it's generally considered to be the best of the Star Wars prequel movies, Episode III, a.k.a. Revenge of the Sith, isn't without its issues. One of the lesser-received elements of the movie is when Anakin Skywalker has been turned into the armored Darth Vader we know and love to hate. Upon hearing from Emperor Palpatine that he had killed Padme, Vader broke free from his restraints, started crushing nearby objects with the Force and yelled out "NOOOOOOO!" Even with James Earl Jones' deep voice, the moment wasn't quite as powerful as it was intended to be. Fortunately, the new Darth Vader comic book has improved on that scene by making Vader react much more violently.
Darth Vader's latest ongoing book from Marvel (written by Charles Soule and illustrated by Giuseppe Camuncoli) takes place immediately after 2005's Revenge of the Sith, and in the debut issue, we revisit the robotic Sith Lord freaking out over Padme's death (via io9). But in this version of that moment, Vader merely shouts "No!" rather than draw it out, and his rage is so great that he slams Palpatine into the wall. Vader is understandably furious that despite Palpatine's promise, he wasn't table to save Padme, but Palpatine twists the situation around by telling his new apprentice that Padme's death has left him a gift: pain. The question now is whether or not Vader will harness that pain or die. Palatine may look decrepit and weak following his battle with Mace Windu, but he's still mighty, and if Vader won't comply with his wishes, then he'll serve him a heaping course of Force lightning. Vader decides to accept his new pain, and the rest is history.
Until Rogue One: A Star Wars Story's release last December, Darth Vader's anguishing cry in Revenge of the Sith was one of the last times Star Wars fans saw him on the big screen; the only other scene of him in that movie was when he was standing on the bridge of that Star Destroyer with Palpatine, and he didn't say a word as they observed the Death Star's construction. While that original moment is still available for all to see, at least this new comic book helps depict Vader's grief in a better way. Rather than just being emotional at Padme's death, he lashes out at Palpatine and looks like he's seconds away from unleashing full fury on his master. It easily reminds us of the intimidating Vader from the Original Trilogy.
You can follow along with Darth Vader's post-Revenge of the Sith adventures by picking up his new comic book digitally or at your local comic shop. For those of you would rather see Vader moving around on screen and putting the dark side to "good" use, I suggest re-watching Rogue One: A Star Wars Story or Star Wars Rebels Season 2.
Your Daily Blend of Entertainment News
Connoisseur of Marvel, DC, Star Wars, John Wick, MonsterVerse and Doctor Who lore. He's aware he looks like Harry Potter and Clark Kent.
Your Daily Blend of Entertainment News
Thank you for signing up to CinemaBlend. You will receive a verification email shortly.
There was a problem. Please refresh the page and try again.