Why The Transformers Writers Room Didn't Change Mark Wahlberg's Approach To The Last Knight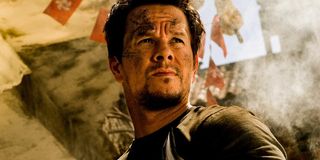 Much was made of Paramount's decision to have a writers room plan out the future of the Transformers franchise after the release of Age Of Extinction. But in many ways it was understandable, as the studio looked to create a cinematic universe akin to Marvel and DC's superhero efforts with their most profitable franchise. Not that all of this forward planning had any impact on Mark Wahlberg's approach to Transformers: The Last Knight. Mark Wahlberg admitted that he popped in to check out some of the artwork for the impending Transformers Cinematic Universe, but his work only really began once the script was in his hands. Mark Wahlberg explained:
Mark Wahlberg told me this when I sat down with the actor to discuss his work on Transformers: The Last Knight in London last weekend. For those of you keeping count, this is the second time that Mark Wahlberg has portrayed Cade Yeager in a Transformers film, as he popped up as the character in Age Of Extinction back in 2014. You can watch Mark Wahlberg responding to my question on how much the writers room impacted his approach to the film below.
The most interesting part of Mark Wahlberg's response is the revelation of just how much freedom he has been given in evolving and developing the character of Cade Yeager over the course of the two Transformers films. Clearly Michael Bay wants to make sure that his leading man is as comfortable as possible in the film, before then flinging him around the set and making him battle Transformers.
Mark Wahlberg has already teased that The Last Knight will indeed be his final outing as Cade Yeager, but that could change. Mark Wahlberg only signed up for the Transformers franchise so that he could reunite with Michael Bay, who previously directed him on Pain & Gain. Michael Bay is once again insisting that The Last Knight will be his final Transformers film, and if that proves to be true, then Mark Wahlberg insists that he will leave, too. However, Michael Bay has threatened to leave the franchise before, only to then return. If he changes his mind this time around, then there's every chance that Mark Wahlberg will stick around. In the meantime, Transformers: The Last Knight is now out in theaters.
Your Daily Blend of Entertainment News
Your Daily Blend of Entertainment News
Thank you for signing up to CinemaBlend. You will receive a verification email shortly.
There was a problem. Please refresh the page and try again.