One Awesome Sounding Deadpool 2 Scene That Could Get Cut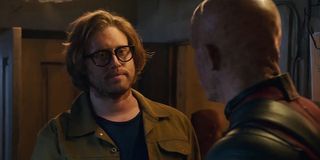 Deadpool 2 has officially begun filming, and while most of the news surrounding the sequel so far has been focused on newcomers Cable and Domino, there are plenty of folks from the first Deadpool movie who are returning for the sequel. Two of those characters are Weasel, Wade Wilson's best friend, and Dopinder, the cab driver who unwisely followed Wade's advice about proving love. According to T.J. Miller, these two share an interesting storyline together in Deadpool 2, although he's not entirely sure moviegoers will get to see it. Miller said:
Since Deadpool 2 is only a little over a week into principal photography, it's far too soon to make a call on what important will be taken out of the sequel's final cut. Depending on how relevant this Weasel/Dopinder storyline is to the main plot, perhaps director David Leitch will decide during post-production to take it out, but for now, T.J. Miller's above quote to Screen Rant has us intrigued to see what these two will be up to. If Weasel and Dopinder's storyline is indeed cut, we can only hope that it's either included as a deleted scene in the home media release, or that either Miller or Karan Soni reveal what it would have been about.
Even though they didn't meet each other in Deadpool, both Weasel and Dopinder were key supporting players in the movie. Weasel already knew Wade Wilson pre-experimentation as the bartender at the mercenary bar, and he accidentally came up with the name that Wade would adopt to strike terror into the hearts of his enemies...or just confusion. That said, Weasel's only willing to go so far for his best friend, as he sat out the final battle against Ajax, Angel Dust and their minions because he just didn't want to go. As for Dopinder, he picked up the Merc with the Mouth twice in his cab, and when we last saw him, he'd just gotten into a car accident while his romantic rival Bantu was in the trunk.
Along with Weasel and Dopinder, Deadpool 2 will bring back Vanessa, Negasonic Teenage Warhead, Colossus and Blind Al to get caught in Wade Wilson's latest round of shenanigans. They'll be accompanied by Zazie Beetz's Domino and Josh Brolin's Cable. Jack Kesey will play the main antagonist, who is reportedly Black Tom Cassidy. No plot details have been disclosed yet, but the sequel will help set up the X-Force team.
Deadpool 2 will be released in theaters on June 1, 2018.
Connoisseur of Marvel, DC, Star Wars, John Wick, MonsterVerse and Doctor Who lore. He's aware he looks like Harry Potter and Clark Kent.
Your Daily Blend of Entertainment News
Thank you for signing up to CinemaBlend. You will receive a verification email shortly.
There was a problem. Please refresh the page and try again.