10 Big Movies Heading To Theaters In July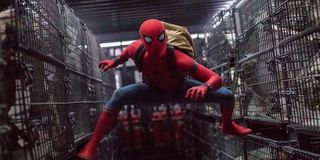 As June winds down at the box office, the second half of 2017 is looming, ready to jump out and grab us. Which means there's another month of movie viewing fun heading to screens all over, and its name just happens to be July. Yes folks, it's time to break out your schedules and make room for 10 big time products of cinema, as the following films are ready to potentially earn your money, as well as your respect.
Spider-Man: Homecoming
Yeah, it hasn't been that long since Peter Parker was swinging around on his web on our screens, but Spider-Man: Homecoming marks a rebirth of the famed web-slinger nonetheless. With The Amazing Spider-Man duology now firmly in the rear view, it's time to get excited about New York's friendly neighborhood arachnid-human hybrid. The advanced buzz is only heightening the anticipation, as people seem to really dig Tom Holland's first solo effort as the kid who would be the man who would be the Spider-Man. If it's even just more of the same spidey stuff we saw in Captain America: Civil War, we're already souped.
Opening: Friday, July 7
A Ghost Story
Grief is a theme that can be explored in so many ways, especially when it pertains to the death of a loved one. Yet A Ghost Story seems to go about its examination of what we leave behind in the wake of our departure in a way we rarely see: we're going to follow the ghost's point of view. With Casey Affleck as the titular ghost and Rooney Mara as the woman grieving for his passing, it looks we're going to see far past the point one would normally see in such a story. But from what we're hearing, it's probably a good idea for you to avoid the trailers if you're even slightly hyped about the latest from A24.
Opening: Friday, July 7
War for the Planet of the Apes
As if the recent tide of critical buzz wasn't enough to entice us into getting ready to experience War for the Planet of the Apes, the fact that the movie just looks so damned good was enough to draw us closer to this revolutionary finale. With the Apes trilogy already delivering some solid base hits with Rise and Dawn of the Planet of the Apes, it looks like War for the Planet of the Apes could be the home run the series has been aiming to deliver.
Opening: Friday, July 14
Wish Upon
What would summer movie season be without some prime choice horror films? That's right, it'd be totally boring. So while we'll have to wait a little longer for The Conjuring Universe to thrill us with Annabelle: Creation, we'll have relative upstart Wish Upon to look forward to. While the scares in this new film aren't based on any sort of true life stories, they do look like they come from recurring nightmares that anyone can relate to. Of course, the big bow on this package of horror delight is the fact that it's directed by John R. Leonetti, the man who brought Annabelle to audiences just a couple of summers ago.
Opening: Friday, July 14
Dunkirk
Christopher Nolan has been working pretty hard on delivering his World War II epic, Dunkirk, ever since Interstellar blasted off into the public consciousness back in 2014. Every peek at what he's been cooking up as a follow-up has been short, but extremely sweet, as the practical effects / shot on film approach Nolan loves to take with his films suits Dunkirk the best out of all of his films. With rumors of buying a World War II plane, just to crash it on film, make us think that no matter what was spent on this film, every cent will be seen on the screen. His first historical narrative, the film just might win over folks that have been sour on Nolan's more recent works.
Opening: Friday, July 21st
Girls Trip
Last month, Rough Night tried to deliver a win for the female-centric party comedy, and it was received with mixed response. Naturally, there's room for the genre to land a solid win, and Girls Trip is aiming to land a very similar audience's attention. Of course, there's two distinct advantages this film has in its corner, the first being that director Malcolm D. Lee has made similar comedy hits out of films like The Best Man and Undercover Brother. Adding in the second advantage of a cast that includes Queen Latifah, Regina Hall, Jada Pinkett-Smith, and Mike Coulter pretty much makes this a film to keep an eye out for.
Opening: Friday, July 21
Valerian and the City of a Thousand Planets
It's been a while since we've had a batshit weird sci-fi epic, at least one as nutsy as The Fifth Element hit the scene 20 years ago. Well, leave it to director Luc Besson to return to those metaphorical stomping grounds to provide another futuristic head trip in Valerian and the City of a Thousand Planets. If Dane DeHaan and Cara Delevingne weren't as committed to selling this colorful, fantastical world, we'd probably be less inclined to be this excited. But everything we've seen has impressed us to the point where we're convinced we'll be singing this one's praises not too long after release.
Opening: Friday, July 21
Atomic Blonde
Question: how do you fear the release of a Charlize Theron-centered marathon of ass kickings? Answer: you don't, particularly when it's directed by David Leitch, one half of the team behind John Wick. Of course, the only fear that may have struck fans of Atomic Blonde's campaign of teasers is that of running into an angry Theron in a dark alley, and who could blame them? Let's not forget, the action in this film is partially fueled by sparring sessions Charlize had with her former co-star Keanu Reeves. Considering how well his training worked out for his role in John Wick, this looks like another sleeper action hit in the making.
Opening: Friday, July 28
The Emoji Movie
These days, there's a kids movie for pretty much anything. So in a world where Storks, Trolls, and Angry Birds all have animated products based on their I.P., surely The Emoji Movie was bound to happen. Similar to those films, the would-be kiddie blockbuster has an impressive cast, with T.J. Miller, Anna Farris, Maya Rudolph, and Patrick Stewart are all part of an even bigger celebrity cast that hope to bring another "unseen world" to life. Oddly enough, due to the subject matter, this movie might have people looking at their phones... but for all the right reasons.
Opening: Friday, July 28
An Inconvenient Sequel: Truth To Power
The environment has been a long running concern for people across the globe, and with extreme weather events and policy decisions regarding global warming have been news cycle constants, it feels like Al Gore was long overdue for a sequel to An Inconvenient Truth. While An Inconvenient Sequel: Truth To Power may not spark an instant environmental revolution, it might turn a couple heads that didn't follow the message the last time around. At least, that's what the film is hoping.
Opening: Friday, July 28
Your Daily Blend of Entertainment News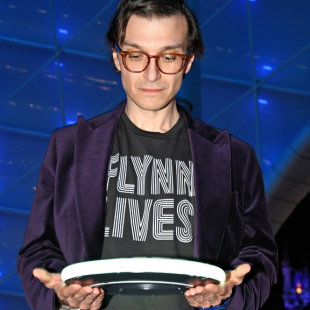 Senior Movies Contributor
CinemaBlend's James Bond (expert). Also versed in Large Scale Aggressors, time travel, and Guillermo del Toro. He fights for The User.