Watch Charlize Theron Hurt People With A Rope In New Atomic Blonde Scene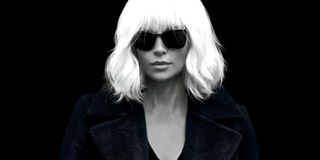 When a movie is titled Atomic Blonde, you know that you are in for a stylish and violent good time. That said, nothing can prepare us for the sheer amount of violence and badass action that's waiting in David Leitch's upcoming action thriller. A new clip has just hit the web showing Charlize Theron's Lorraine Broughton kicking all kinds of ass with little more than her fists and a rope, and it is one of the coolest things that you will see all day. Check it out below, but be warned, it will get your heart rate pumping.
Although the DNA of the John Wick films is fairly clear to see in this clip, it should be noted that there are a few key differences that make Atomic Blonde endlessly enticing in its own right. The action maintains all of the brutal violence that we have come to expect from the modern action film landscape (complete with an absolutely neck-snapping climax at the end of this sequence), but the film also maintains a notable sense of gritty European style that was missing from the John Wick movies -- even John Wick: Chapter 2, which took place in Rome. It's obvious that David Leitch has plenty of practice in this type of action filmmaking, but Atomic Blonde looks like a total breath of fresh air in terms of its overall style.
Of course, it is also worth mentioning that Charlize Theron deserves a ton of credit for how good this movie looks. Even in her weaker films, the actress has proven time and time again that she knows how to throw herself into the most intense roles possible. She has recently experienced great success becoming a female action icon in movies like Mad Max: Fury Road and The Fate of the Furious, and it's abundantly clear that she works at her peak when she's granted a role that allows her to embrace her dark side. Based on everything that we have seen from Atomic Blonde, she's about to fire on all cylinders.
Atomic Blonde appears to rely on a relatively simple, yet effective storyline. Lorraine Broughton is a highly skilled secret agent sent to Berlin to retrieve a dossier following the death of someone close to her. Along the way, she finds herself partnered with a fellow agent (James McAvoy) as the two navigate the seedy Berlin underworld to complete their mission and survive. The trailers have thus far depicted the film as a seemingly endless supply of sex and violence (along with a healthy dose of style and vulgarity) so I think it is safe to say that we are incredibly excited
Charlize Theron will take center stage to kick ass as Lorraine Broughton when Atomic Blonde debuts in theaters later this summer on July 28.
Originally from Connecticut, Conner grew up in San Diego and graduated from Chapman University in 2014. He now lives in Los Angeles working in and around the entertainment industry and can mostly be found binging horror movies and chugging coffee.
Your Daily Blend of Entertainment News
Thank you for signing up to CinemaBlend. You will receive a verification email shortly.
There was a problem. Please refresh the page and try again.