The Bizarre Reason T.J. Miller Considered Doing The Emoji Movie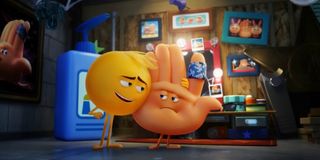 Over the last decade, T.J. Miller has developed one of the most eclectic CVs in Hollywood. He's gone from Cloverfield to Deadpool to Yogi Bear to Transformers: Age Of Extinction, while over the next 12 months he'll appear in The Emoji Movie and then Ready Player One. T.J Miller has allowed himself to develop such a varied portfolio of work because he is always intrigued to see why someone actually wants him for their film. That's exactly how he signed up for The Emoji Movie, as he recently admitted that he originally went to the pitch meeting just to see how they were going to make a film about emojis. T.J. Miller explained:
T.J. Miller admitted this to me when I sat down with the comedian at the end of May to discuss The Emoji Movie and his role within the animated comedy. But while the above quote reveals that he was ultimately convinced to work on The Emoji Movie because of director Tony Leondis, and his interesting take on where to take the film with T.J. Miller in the lead role, the former Silicon Valley actor made it clear to the director that this process would include a hefty amount of improvisation. This was something that Tony Leondis was more than happy to include, though, as T.J. Miller recalled:
You can check out the trailer for The Emoji Movie and see if T.J. Miller's comedic sensibilities have nicely mashed with the animated effort, below.
We don't have long until The Emoji Movie is with us, as it is set to be released into theaters on July 28.
Your Daily Blend of Entertainment News