The Emoji Movie Trailer Has Talking Poo, And That's The High Point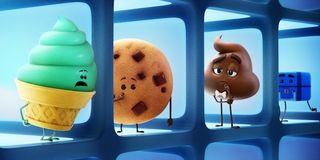 Sometimes a movie based off an existing intellectual property or concept is announced that makes you wonder, "Why on Earth was this greenlit?" Sometimes such movies can turn out to be pleasant surprises, like 2014's The Lego Movie. Sadly, Sony Pictures has yet to convince us that The Emoji Movie will experience a similar kind of success. The first official trailer is out, and even it feels 'meh' about the whole thing.
In what is the most transparent attempt at irony that I've seen in a while, The Emoji Movie trailer features the 'Meh' emoji (known here as Mel Meh) announcing the upcoming animated movie, and who better to give voice to such a feeling than notorious deadpan comedian Steven Wright? As you could guess without even watching, Mr. Meh doesn't sound remotely excited about plugging The Emoji Movie, to the point that he doesn't even care whose family you bring to see it.
Also, kudos to those of you who predicted that the poop emoji would show up in the first preview, as he's nearly referred to in a negative way by the angry ice cream cone emoji, and of course he has a incongruous British accent. It sounds like Patrick Stewart is voicing that literal pile of shit, but that remains unconfirmed. Funny enough, although the trailer from Sony's official YouTube channel is presented in the standard horizontal format, it's presented on the movie's social media channels vertically, as if it were being screened strictly on a phone. Thankfully, it doesn't look like we have to worry about the entire movie being presented in portrait mode. Sure that would be an interesting creative choice, but it would also get old after a little bit.
The Emoji Movie clearly doesn't have a problem with using self-deprecating humor to plug itself, but even so, this trailer didn't make its case about why we need a 90-120-minute-long movie about the symbols we use in our text and instant messages. Well, whether you liked the trailer or not, this movie will be arriving next summer, so let's hope it and Smurfs: The Lost Village will be enough competition from Sony for the other animated movies coming out in 2017.
Taking place in the digital city of Textopolis, The Emoji Movie will follow Gene (T.J. Miller), the one emoji who doesn't have a permanent facial expression/theme. Determined to become "normal" like the other emojis, Gene will embark on an "app-venture" (that's seriously how it's described) with his best friend Hi-5 (James Corden) and codebreaker Jailbreak (Ilana Glazer) to find the code out there in the digital world that can fix him, but along the way, they'll discover a "greater danger" that threatens all emojis and the phone itself!
The Emoji Movie hits theaters on August 4, 2017. Let us know what you thought of this first trailer in the comments below.
Connoisseur of Marvel, DC, Star Wars, John Wick, MonsterVerse and Doctor Who lore. He's aware he looks like Harry Potter and Clark Kent.
Your Daily Blend of Entertainment News
Thank you for signing up to CinemaBlend. You will receive a verification email shortly.
There was a problem. Please refresh the page and try again.