The Important Role Jake T. Austin Plays In The Emoji Movie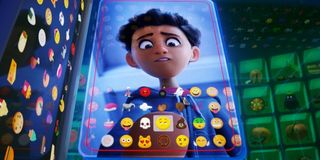 The Emoji Movie takes place in two worlds. While the shenanigans of T.J. Miller, James Corden, Anna Faris, and Maya Rudolph's Emojis unfold within a phone, the device itself actually belongs to a teenager named Alex. Jake T. Austin, who has been tasked with portraying Alex in the animated spectacular, has now opened up about the role, giving us an overview of Alex's journey, and revealing that the character actually wields a whole lot of power in The Emoji Movie. A power that could ultimately erase Textopolis and "the world of the Emojis." Jake T. Austin explained,
Jake T. Austin made this admission to me back in May when I sat down with the actor to discuss his role in The Emoji Movie. Alongside chatting to the 22-year-old actor I also got to see some early footage for The Emoji Movie, which gave me a better understanding of what the film will have in store for viewers.
From what I saw The Emoji Movie actually evokes some of the greatest animated films of recent years. The way it makes you feel and care for its Emoji characters is reminiscent of Toy Story, especially since you'll almost certainly second-guess deleting apps from your phone after watching it. At the same time the journey of Gene (T.J. Miller), Hi-5 (James Corden), and Jailbreak (Anna Faris) through the phone and its various apps is similar to The Lego Movie, while there are even strokes of Inside Out in its emotional heft.
As I only saw about 30 minutes worth of scenes during the preview, each of which were separate sequences rather than an entire act or section, the above comparisons shouldn't be taken as concrete evidence that The Emoji Movie will ultimately compare to the above. Instead, they appear to have borrowed and leaned upon them as inspiration. Considering how sublime Toy Story, The Lego Movie, and Inside Out are, it's understandable. You can take in the trailer for The Emoji Movie yourself, below.
The Emoji Movie will be in cinemas later this summer on July 28, while keep glued to CinemaBlend over the next few days and weeks for further revelations from my discussions with Jake T. Austin, director Tony Leondis, and star T.J. Miller.
Your Daily Blend of Entertainment News