The Killing Hasselhoff Trailer Features A Death Pool And David Hasselhoff Running In Slow Motion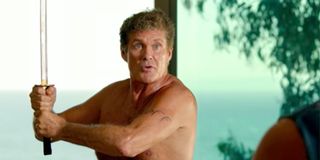 We've been hearing about a movie following Ken Jeong attempting to murder David Hasselhoff for a while. As outlandish as that premise may seem, the first trailer for Killing Hasselhoff is now here and it is chock full of action, including drinking and David Hasselhoff running in slow motion. Because of course David Hasselhoff is going to run in slow motion. Check it out.
If you aren't up on the general premise of Killing Hasselhoff, the movie actually stars Ken Jeong as a nightclub owner who begins losing everything important to him. Desperate to pay off his debts, Jeong's character will realize his salvation may come in the form of a death pool. If David Hasselhoff dies, he'll win half a million dollars. So the only way to get out of debt may be to--you guessed it--kill David Hasselhoff.
Murdering someone to win a death pool is no mean feat, and the trailer features plenty of shenanigans, including the nightclub owner surveilling his target and accidentally poisoning people he didn't intend to kill. David Hasselhoff runs around in his underwear with a sword at one point, and runs in slow motion while attempting to save someone drowning at another. I have no idea if this will pan out into a cohesive and enjoyable movie, but points for the original premise.
Ken Jeong is probably currently nursing his wounds after Dr. Ken was cancelled by ABC. Killing Hasselhoff is his next project, and Universal Pictures says the movie will be out later this year in the U.K. in a limited release before hitting DVD almost immediately, which isn't super reassuring. (You can pre-order the DVD release, which is out on August 29, here.) David Hasselhoff could use a win, too, after Baywatch underperformed domestically this summer, although it should be noted it has its fans overseas.
With a DVD and Digital only release, it's clear Universal isn't putting a lot of money behind Killing Hasselhoff, but even if you never check out the movie, we hope the trailer is worth a watch, if only for David Hasselhoff harkening back to his Baywatch days with that slow-mo scene. That, and Ken Jeong fiddling repeatedly with a seatbelt, which is a legitimately funny gag. Be sure to check out what else is headed to Blu-ray soon.
Amazing Race & Top Chef superfan with a pinch of Disney fairy dust thrown in. If you've created a rom-com I've probably watched it.
Your Daily Blend of Entertainment News
Thank you for signing up to CinemaBlend. You will receive a verification email shortly.
There was a problem. Please refresh the page and try again.