Fantastic Beasts: The Crimes of Grindelwald Cast List - All The Confirmed And Returning Characters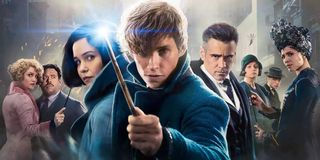 After last fall's successful start to the Fantastic Beasts and Where To Find Them series of films, a sequel was naturally going to happen pretty quick. But with J.K. Rowling completing the script fairly recently, and with a lot of the film's talent being secured to return, the sequel is in pretty good shape for next year's release. Of course, when it comes to the wizarding world, it's hard to keep track of who's coming back and who's making their debut, so we here at CinemaBlend are glad to help clear that up with no problem whatsoever.
The following is a list of returning cast members who will be featured in Fantastic Beasts and Where to Find Them 2, as well as some of the new faces we know will be appearing in the world that will eventually lead to Harry Potter's legendary adventures. Be prepared, as the future will bring some old favorites, as well as some surprising newcomers to the already in production film.
Newt Scamander
Of course, what would Fantastic Beasts and Where to Find Them 2 be without the most Hufflepuff of all Hufflepuffs, Newt Scamander? And what would Newt's return to the world of Magizoology be without actor Eddie Redmayne coming back to further live out the adventures of Scamander's quest to catalog magical creatures? To be fair, it could still be a fantastic adventure, but it wouldn't be the same without Redmayne's easy charm as the magical caregiver for creatures great and small.
Gellert Grindelwald
Every duel has two sides, and the evil side has Gellert Grindelwald as its champion. Appearing at the end of Fantastic Beasts and Where to Find Them, Johnny Depp wowed everyone by being cast in the role of the lead antagonist for this series of five films. Though his return probably means no Colin Farrell in the sequel, one can only hope the mad wizard will reuse his disguise from the first film. One thing's for sure: Gridelwald has escaped from custody, and some additional help is definitely going to be needed.
Leta Lestrange
Technically Zoe Kravitz's Leta Lestrange is a returning character, seeing as she's seen on camera in a photograph and discussed at length in Fantastic Beasts. But at the same time, she's a newcomer to the fold, seeing as this will be the first time she'll be acting as the character in a full capacity. Of course, the return of Newt's long-lost crush is going to complicate matters, seeing as someone else special to him is coming back around.
Tina Goldstein
She's been reinstated as an auror in MACUSA's ranks, yet Tina Goldstein will more than likely take a journey to the European continent, looking for Newt wherever he may be camping out. Though the story will probably have more reasons important to the film's plot, seeing as Katherine Waterston's character has fought evil with Scamander before, we might see these two start down the path that will eventually see them becoming a married couple. If not, there's potential for another Fantastic Beasts and Where to Find Them romance to start back up again in this second film.
Queenie Goldstein
Where there's Tina, there's a good chance her sister, Queenie Goldstein, will be around, too. Bringing Alison Sudol into the group yet again will help keep Fantastic Beasts and Where to Find Them 2 an upbeat affair, as Queenie always has some kindness in her heart and a smiling face to help inspire all around her. Let's just hope that this time around we don't have to see her heartbroken again, since the last time was enough to put is in a bit of a funk. At least, until we realized that a certain someone wasn't as gone as she thought he was.
Jacob Kowalski
He may just be a Muggle pastry chef with vague remembrances of the first magical journey he was a part of, but Jacob Kowalski did win Queenie by his side by the end of Fantastic Beasts and Where to Find Them. Presuming that Dan Fogeler's clumsy, but friendly baker is still with the mind-reading witch he seemed pretty cozy with, we'll get double the lighthearted comic relief needed for the dark days ahead. Especially when you realize that our last returning cast member has the darkest potential of all.
Credence Barebone
Presumed to have been destroyed in the final showdown against Gellert Grindlewald, Ezra Miller's Credence Barebone was seen floating into the air in bits and pieces. Although, knowing the magical world, no one stays away for too long. With dark magical abilities that are both extremely powerful and extremely tormented, Grindewald just might have his apprentice by his side in Paris, where no one can harm him for the time being.
Albus Dumbledore
Here's another funny case of "newcomer vs returning cast member." We've seen Albus Dumbledore plenty of times in the Harry Potter canon. And yet, he's still a new member of the Fantastic Beasts and Where to Find Them cast, as it will be the first time we'll see him in his younger years. Bringing Dumbledore to younger, and hopefully more active, life is celebrated actor Jude Law, who to be honest is quite an exciting pick.
Theseus Scamander
Throughout Fantastic Beasts and Where to Find Them, we hear information pertaining to Newt's older brother, Theseus. A hero of World War I, we've never seen him on screen, which is going to change in Fantastic Beasts and Where to Find Them 2. Playing the role is Callum Turner, best known for his roles in Green Room and Assassin's Creed, as well as the BBC/Lifetime adaptation of War & Peace. It's probably a good thing that Theseus has experience in combat, as he was last mentioned to be hunting down Grindelwald.
Grimmson
In addition to characters either present in the Harry Potter world or connected to a previously established character, we'll be introduced to some new people in the Fantastic Beasts world as well. The first new character we have word on is Grimmson, who has been simply described as "a bounty hunter." This sort of figure could go in a number of different directions, as a bounty hunter could have loyalties to either good or bad sides, or none at all. Playing Grimmson is actor Ingvar Sigurdsson, who looks to be making his return to the world of blockbuster films.
Yusuf Kama
Another new character who we don't have too many details on is wizard Yusuf Kama. Other than his name and magical ability, we don't know a lot about Yusuf's allegiance in the wizarding war. Though if we were to guess, Yusuf would more than likely be one of the good guys. What we do know is that Mr. Kama will be played by French actor William Madylam, who happens to be making his big budget blockbuster debut.
Skender
With the jump Fantastic Beasts and Where to Find Them 2 will make from America to Europe, there will also be some interesting new corners of the wizarding profession that the film will expose us to. Part of that will be courtesy of Olafur Darri Olaffson's character, Skender, who is listed as "the owner of a wizarding circus." Hopefully Skender is the type of circus owner that treats his attractions with kindness as opposed to cruelty. An Icelandic-American actor, Olaffson has been in projects such as True Detective and Emerald City, and will soon be seen in thr upcoming shark thriller, Meg.
Maledictus / Natalie / Nagini
Our last known newcomer to the Fantastic Beasts family is a featured attraction at Skender's wizarding circus. Played by Avengers: Age of Ultron's Claudia Kim, she's gone by many names in the promotion of Fantastic Beasts: The Crimes of Grindelwald. Originally, she was named Maledictus, and Ms. Kim herself had stated at the recent press event in New York that she would introdude herself as Natalie. But we all now know her most infamous calling card, as she's a shape shifter who takes the form of a snake, and goes by her most infamous name of all: Nagini.
Fantastic Beasts and Where to Find Them 2 will be in theaters on November 16th, 2018.
CinemaBlend's James Bond (expert). Also versed in Large Scale Aggressors, time travel, and Guillermo del Toro. He fights for The User.
Your Daily Blend of Entertainment News
Thank you for signing up to CinemaBlend. You will receive a verification email shortly.
There was a problem. Please refresh the page and try again.