How Jude Law Feels About Joining Fantastic Beasts And Where To Find Them 2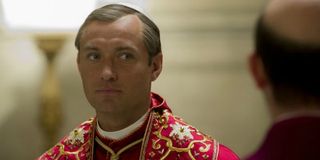 While the casting of Jude Law as Dumbledore in the Fantastic Beasts And Where To Find Them series was greeted with nods of approval by many, the legacy of the character means that there's still a whole heap for the actor to do to truly make his mark. Clearly, Jude Law is overjoyed just to get the chance to play Dumbledore, though, so much so that after being asked about how he feels taking on the part the Academy Award nominee insisted that he's "excited." However, he also made sure to admit there is an ounce of fear, too, but only because he is so eager to please the fans and himself. When quizzed about his feelings surrounding the part, Jude Law admitted,
Jude Law has got quite a lot to do before he can truly sink his teeth into the role of Dumbledore, though. That's because he hasn't even had the chance to sit down and discuss the role with J.K. Rowling yet. That's going to be quite an important step, because not only did J.K. Rowling create the character, which appeared throughout her series of Harry Potter books and films, but she wrote Fantastic Beasts And Where To Find Them and she's currently hard at work on its immediate sequel and its subsequent follow-ups.
Jude Law's comments to the BBC suggest that he hasn't been able to quite figure exactly when all of this prep work will be going down. Still, when he eventually does get to chat with the writer, which I imagine will be an all-English affair that includes tea and scones, Jude Law insisted that he's going to quiz her on who Dumbledore is and who she wants him to be, as well as "learning a little more about this great man as a young man." Of course we've already seen Dumbledore played iconically on the screen before. He was first played by Richard Harris in The Philosopher's Stone and The Chamber Of Secrets, before Harris' death in 2002 saw him replaced by Michael Gambon for the remaining Harry Potter films.
These combined performances brought the beloved character to life in such an impactful manner that the Dumbledore became a well-liked and memorable movie character that will forever be etched in pop culture history. Which is why it is so important that Jude Law is able to bring the younger incarnation of Dumbledore to life in as equally as impressive a manner. We'll get to see if he can achieve just that when Fantastic Beasts And Where To Find Them 2 is released on 16 November, 2018, while he'll undoubtedly return in the three planned sequels to the impending film, too.
Your Daily Blend of Entertainment News
Thank you for signing up to CinemaBlend. You will receive a verification email shortly.
There was a problem. Please refresh the page and try again.