Fantastic Beasts Prop Reveals A Key Detail About Newt's Brother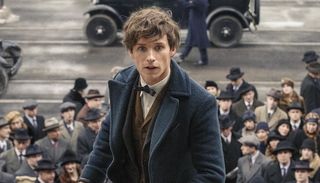 The attention to detail that goes into movie props can sometimes be astounding. Fantastic Beasts and Where To Find Them is one of the more recent demonstrations of that. In fact, a recently displayed prop from the Harry Potter prequel has offered us some very intriguing information about Newt Scamander's brother Theseus.
A letter from Thesius Scamander to his younger brother Newt is included among the Fantastic Beasts props on display at the Warner Bros. Studio Tour Hollywood. The excerpt below reveals that Theseus has been assigned to try to track down Gellert Grindelwald. (The blanks are mostly due to part of the letter being obstructed on the display).
The fine folks over at Snitch Seeker grabbed a photo of the letter, which you can read in full here. It does not appear to be dated, so we don't know exactly when it was sent, only that Newt was out searching for beasts when he received it. So we might assume that it's relatively recent.
That Newt Scamander has a brother at all is something that's only vaguely acknowledged in Fantastic Beasts and Where To Find Them. When he first arrives, someone at MACUSA hears the name "Scamander" and asks if he's Theseus Scamander, the war hero. We also know, thanks to something Colin Farrell told us on the set of Fantastic Beasts last year that Theseus is an auror for the Ministry. So it makes sense that he might get involved in the hunt for Gellert Grindelwald.
Why might this be key information, however? Well, anyone who's read J.K. Rowling's Harry Potter books knows she has a way of setting up future characters and stories with seemingly casual references. Sure, her books are filled with interesting tidbits and history about various characters, but the specific mention of Theseus in Fantastic Beasts left us to consider that we may hear more about or from that character going forward. The fact that this letter confirms he's actively searching for Grindelwald on behalf of the ministry makes me wonder if that won't become more relevant to the plot in the upcoming sequel, or further down the line.
Beyond what little we know about Theseus Scamander so far, we do know that there are more new characters set to be introduced in the Fantastic Beasts films. David Yates actually brought that up to us during the press junket for Fantastic Beasts, when we asked him whether or not Fantastic Beasts' sequels would all center around Newt. In fact, his answer included a quick mention of Newt's brother...
New and interesting characters could mean anything, but with that specific mention of Newt's brother, I'm inclined to think that Theseus might factor into the plot. Maybe he'll enlist Newt's help in his search for Grindelwald. Or, perhaps he'll go missing and Newt will set out to find him. At this point, we can only speculate. What we do know from the Harry Potter book references about Gellert Grindelwald is that, as history tells it, he kept the bulk of his wrath out of the U.K., which means there's a good chance Gellert Grindelwald has departed England in his search for the dark wizard. Wonder if a trip to Paris is on the agenda?
Your Daily Blend of Entertainment News
Thank you for signing up to CinemaBlend. You will receive a verification email shortly.
There was a problem. Please refresh the page and try again.