6 Marvel Movies That Should Be Period Pieces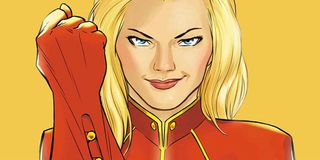 Every new report that we receive concerning Captain Marvel seems to double down on the notion that it will break every mold in the comic book movie genre. Not only will the upcoming Brie Larson-fronted superhero flick represent Marvel's first major female-oriented project, but it will also move the action back to the 1990s to have her fight the Skrulls alongside a younger Nick Fury. That's why we haven't seen any hints of Carol Danvers showing up in Infinity War yet; her first movie is a period piece, which opens up an fascinating new corner for the MCU.
However, the possibilities don't end with Captain Marvel (which is currently set for a March 8, 2019 release date). The Marvel Cinematic Universe has plenty of existing properties and characters that could easily transition to their own period piece solo films, and we think it's time to give them a shot. On that note, we have put together a list of potential Marvel films that could work as period pieces in the vein of Captain Marvel or _Captain America: The First Avenger _(the MCU has a lot of Captains). Check out our list, and let us know what you want to see in the comments section below!
Ant-Man 3 - The 1960s
One of the most brilliant creative decisions made throughout the entirety of the Marvel Cinematic Universe was the choice for the Ant-Man franchise to have its cake and eat it too. By opting for the Scott Lang (Paul Rudd) incarnation of the hero, Peyton Reed's Ant-Man gave us an origin story, while also establishing the more seasoned and experienced Hank Pym (Michael Douglas) as a much older version of the character. The flashback sequences of Ant-Man are some of the coolest that we have ever seen in a Marvel film, and the greater implication is that superheroes like Ant-Man existed in decades that these films haven't seen yet. Depending on how much (or how little) of Pym's backstory Ant-Man and The Wasp gives us, we would love to see an entire solo movie dedicated to his younger years before the suit wore him out.
Black Widow - The 2000s
If there's one solo movie that Marvel fans have clamored for longer than others, it has to be a Black Widow film. Still one of the most mysterious members of the core Avengers roster, Natasha Romanoff has a dark backstory that's unlike anything we have seen from the other central standalone films that have debuted over the last decade. With that in mind, a Black Widow film chronicling her early years as an assassin for the KGB -- and perhaps even leading up to her becoming the target of Hawkeye -- seems like a perfect choice for a more grounded and gritty spy adventure. Given Widow's age (as well as Scarlett Johansson's age) this means likely placing her origin sometime in the 2000s and giving us a glimpse at the Marvel world in the time between Captain Marvel and Iron Man.
Nick Fury: Agent of S.H.I.E.L.D. - The 1980s
After a decade of supporting appearances, it's about damn time. Samuel L. Jackson's Nick Fury has been part of the Marvel Cinematic Universe for as long as Tony Stark, and we think it's time for him to finally take center stage in a solo movie of his very own. The guy clearly knows his way around the spy game, and we want to see the earlier years of his career -- possibly even the origins of his friendship with Captain America: The Winter Soldier's Alexander Pierce. Considering the fact that the Nick Fury from the Nick Fury: Agent of S.H.I.E.L.D. film (starring David Hasselhoff) was active in the 1980s, there's no better way to homage the live-action history of the character than to go back and give us an origin story that paves the way for him to meet up with Carol Danvers.
Agent Carter - The 1950s
This one feels a little different because Peggy Carter has already had an opportunity to shine in her small screen series. Having said that, it has become widely accepted by many segments of the Marvel fan base that Agent Carter was canceled by ABC far too soon, and there's still plenty of story material left for Peggy in the Marvel Cinematic Universe. We know this tough-as-nails (and endlessly dapper) British agent worked for S.H.I.E.L.D. for the entirety of her adult life, and we want to see the lost decade of the 1950s, chronicling the time between her coming to terms with the "death" of Steve Rogers, and the introduction of Hank Pym's Ant-Man. Peggy is unquestionably one of Marvel's most compelling non-superpowered characters, and we have no doubt that Hayley Atwell could shoulder the weight of a solo movie on her own.
Black Panther - The 1970s
In the same way that the Ant-Man franchise could go back and give Hank Pym far more attention as a central character, so too could the Black Panther series go back to the 1970s to focus on T'Challa's (Chadwick Boseman) father T'Chaka during the early years of his reign as Wakanda's King. There's clearly a rich history in this mysterious African land, and audiences are already begging to see more ahead of Black Panther's 2018 release. The 1970s has undoubtedly become known as one of the most unique decades in world history -- particularly with regards to global and racial politics. Giving us a black superhero story set during one of the world's most polarized eras could allow the entire Marvel Cinematic Universe to delve into some intriguing and thought-provoking avenues that have numerous real world implications.
Spider-Man 2099
It's pretty clear that the Spider-Man brand will become one of Marvel's flagship tentpoles as the Marvel Cinematic Universe begins to move away from the earlier heroes who kicked off this world in Phase 1. All eyes are on guys like Peter Parker and Miles Morales to do the bulk of the heavy-lifting, but an adaptation of Spider-Man 2099 could take the MCU in a full-blown sci-fi direction. Centering on new Spidey Miguel O'Hara in the not-too-distant future (not unlike DC's Batman Beyond) Spider-Man 2099 presents audiences with a high-tech Marvel universe (complete with all of the famous personas like The Punisher and Green Goblin) filtered through a bizarre, futuristic lens. It's clear that Marvel wants to go to the past, but if it intends to look to the future, then Spider-Man 2099 is probably the best source material to tap.
This poll is no longer available.
Your Daily Blend of Entertainment News
Originally from Connecticut, Conner grew up in San Diego and graduated from Chapman University in 2014. He now lives in Los Angeles working in and around the entertainment industry and can mostly be found binging horror movies and chugging coffee.
Your Daily Blend of Entertainment News
Thank you for signing up to CinemaBlend. You will receive a verification email shortly.
There was a problem. Please refresh the page and try again.