How Hayley Atwell Wants Peggy Carter To Return To The MCU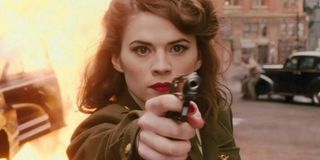 Those of us who saw Captain America: Civil War probably thought that it was the last time that we'd get to see Peggy Carter in the Marvel Cinematic Universe. This obviously had something with the fact that it featured her funeral, but Hayley Atwell, who has played Peggy Carter throughout the MCU, still holds hope that the character will return, and she wants her to get her own solo movie.
Hayley Atwell has even dreamed up her own plan for how Peggy Carter can return to the Marvel Cinematic Universe. In fact, she's willing to play the waiting game, as she wants to return to play the character in around 15 or even 20 years time when she is in her fifties. Speaking to Comic Book Resources, Hayley Atwell declared:
Realistically, what are the chances that we'll actually get to see Hayley Atwell in her very own Peggy Carter film? At the moment, not very likely, as Agent Carter, which depicted the rise of Peggy Carter through the 1940s was cancelled back in May 2016, due to poor ratings. Still, considering how quickly Kevin Feige and the team over at Marvel Studios are working through their characters, who knows which ones they might turn to in a couple of decades time to keep people interested. Especially since, at the moment, audiences' fervor for Marvel's output shows no signs of waning.
As well as starring in 18 episodes over two seasons of Agent Carter, Hayley Atwell also appeared in a major supporting role in Captain America: The First Avenger and the Marvel One-Shot: Agent Carter, while she had cameos in Captain America: The Winter Soldier, Avengers: Age Of Ultron and Ant-Man.
Her photo also popped up early this year in Captain America: Civil War, but the character herself was too busy dying for her to have any actual dialogue or interaction with her living counterparts in the blockbuster. Which was probably a good thing, as Chris Evans' Steve Rogers, who was previously Peggy Carter's love interest in The First Avenger, shared a smooch with her great-niece Sharon Carter, played by Emily VanCamp.
While it's hard to see how Peggy Carter will be included in either Doctor Strange, Guardians Of The Galaxy Vol. 2, Spider-Man: Homecoming, Thor: Ragnorak, Black Panther, Avengers: Infinity War, Ant-Man and the Wasp or Captain Marvel, which are due out between now and 2019, let's never say never. Because not only is Peggy Carter beloved by Marvel fans, but it's always great to see Hayley Atwell on screen as the heroine, too. Fingers crossed Marvel will find a way for her to return in the near future, and not in 20 years time, though.
Your Daily Blend of Entertainment News