Exactly What Is Going On With Carrie Fisher In Star Wars 8, According To Bob Iger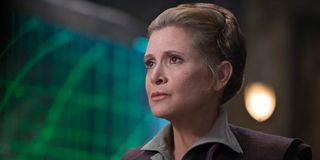 The death of Carrie Fisher at the end of December left Star Wars fans numb with grief. Once this sorrow started to subside, thoughts slowly turned to the future of the franchise, especially since Fisher had just finished shooting Star Wars: The Last Jedi. Soon speculation amassed that either Star Wars 8 was going to be re-written to deal with Carrie Fisher's death, or that Disney might use her digital likeness in additional scenes. Disney CEO Bob Iger has now given us our clearest indication yet of the changes that will be made to Star Wars: The Last Jedi, and he's insisted that everything is going to stay exactly as planned. Bob Iger explained:
It's interesting to note that Bob Iger's comments don't mention Star Wars 9, which is currently being written by Derek Connolly and Colin Trevorrow, with Trevorrow directing. Rian Johnson, the writer and director of Star Wars 8, has provided the story treatment for Star Wars 9, and it's safe to assume that Johnson, Trevorrow and Connolly, as well as Lucasfilm President Kathleen Kennedy and everyone else involved in the franchise has been discussing the best way to handle Carrie Fisher's tragic passing. Maybe George Lucas even got to chime in with his opinion, too.
What we can gleam from Bob Iger's comments is that Rian Johnson hasn't had to drastically alter Star Wars: The Last Jedi in the wake of Carrie Fisher's death. This only raises further questions, though. Without Carrie Fisher to shoot additional scenes, does this mean that Princess Leia will only be mentioned and not seen in Star Wars 9? Will she die in between the films? Or does this mean that it was already written that Princess Leia died in The Last Jedi and that Carrie Fisher shot these scenes? Fingers crossed it's not the latter, because I don't think I could take the multitude of that heartbreak.
Just before the untimely passing of Carrie Fisher, Star Wars fans were shocked to see her digital likeness appear at the end of Rogue One: A Star Wars Story. Because of the seamless inclusion of this special effect, it was suggested that this might be used in Star Wars: The Last Jedi to help transition the story and Princess Leia's plight into Star Wars 9.
Bob Iger's comments in the recent Santa Monica talk (via THR) puts those rumors to bed once and for all. But it will only raise further questions regarding Star Wars' future, and Princess Leia's within it. The concrete answers will only start to arrive when Star Wars: The Last Jedi is finally released on December 15, while we'll probably only get the full picture once Star Wars 9 follows on May 23, 2019.
Your Daily Blend of Entertainment News