We May Not See More Of The Guardians Of The Galaxy 3000 Team As Quickly As We Hoped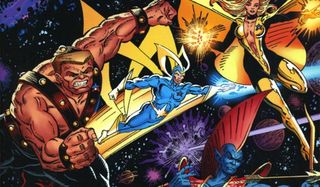 From the beginning, Marvel Studios has used post-credits sequences to tease elements of the future. An important distinction, however, is that some are for short-term plans, and others are for long-term. It turns out that this is something that's important to consider when it comes to the five extra scenes in this summer's Guardians of the Galaxy Vol. 2, as writer/director James Gunn recently told me that what we see are not necessarily teases for Guardians of the Galaxy Vol. 3. Said Gunn,
The Guardians of the Galaxy Vol. 2 post-credits scenes include two sequences that tease exciting future elements - the reunion of Yondu's original Ravager team and the reveal of Adam Warlock's cocoon -- but James Gunn told me in an interview last week that you shouldn't necessarily expect that both will be a part of the developing Guardians of the Galaxy Vol. 3. Speaking with the filmmaker during a Los Angeles press day for the Guardians 2 home video release, I started to ask about the process of dovetailing those two very different stories in the next chapter of the series, knowing that neither will be included during the events of Avengers: Infinity War or the untitled Avengers 4. However, Gunn stopped me to explain why it's not really a concern.
As for which of the two post-credits scenes could wind up individually spurring the plot of Guardians of the Galaxy Vol. 3, the more obvious answer is Adam Warlock. Not only is it a character that James Gunn clearly wants to use extensively, writing him into early drafts of Guardians of the Galaxy Vol. 2, but the sequence with Elizabeth Debicki's Ayesha also presents much more of a direct conflict that actually needs to be addressed (i.e. Adam Warlock being created/born to destroy the Guardians).
Amazing as it was to see Stakar Ogord (Sylvester Stallone), Aleta (Michelle Yeoh), Martinex (Michael Rosenbaum), Charlie-27 (Ving Rhames), Mainframe (Miley Cyrus), and Krugarr all assembled on the big screen, their reunion doesn't exactly generate any narratives that urgently need payoff. As a result, it may be a minute before we get to see the team in full force again. That being said, and to borrow a comparison from James Gunn, we've now been waiting five years for Thanos to get off his ass and do something, and the footage from The Avengers: Infinity War definitely makes it seem like he's going to be blowing minds when he hits the big screen next summer. Gunn has big plans for the future of the Marvel Cinematic Universe's cosmic side, and you can be sure that the Guardians of the Galaxy 3000 unit will be a part of that.
Right now we don't exactly know when Guardians of the Galaxy Vol. 3 will be coming out, but James Gunn has teased a possible start of production in late 2018, meaning that a 2020 date is on the table. Stay tuned for more updates on the project, as well as more from my interview with the writer/director!
Guardians of the Galaxy Vol. 2 will be available on digital this Tuesday, August 8th, and copies of the 4K, 3D, Blu-ray, and DVD will be available on August 22nd.
NJ native who calls LA home; lives in a Dreamatorium. A decade-plus CinemaBlend veteran; endlessly enthusiastic about the career he's dreamt of since seventh grade.
Your Daily Blend of Entertainment News
Thank you for signing up to CinemaBlend. You will receive a verification email shortly.
There was a problem. Please refresh the page and try again.