Why You Need To See Annabelle: Creation In A Packed Movie Theater On Opening Weekend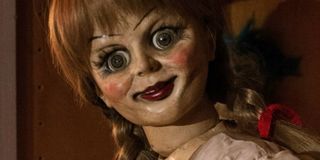 I haven't made my personal affection for Annabelle: Creation a secret since getting the chance to see the film at an early press screening. My own four-star review of the movie speaks for itself and pretty much lays out the sheer amount of filmmaking prowess on display in David F. Sandberg's Conjuring universe prequel. But aside from the obvious skill in every frame of the film, Annabelle: Creation is also worth your time because it's one of the most participatory horror outings in recent memory. Of all the films to debut in theaters this summer, the latest installment in The Conjuring universe is arguably the one that you definitely need to see in a crowded theater.
We've all been there before. We have all sat in a movie theater during a horror movie and looked around as a nail-biter of a scene builds to a crescendo. People cover their eyes; they hold their breath, and they turn to the people next to them to seek some degree of comfort in the face of a film that has gotten under their skin. That's a sensation that Annabelle: Creation delivers in every single one of its set pieces.
Whether it's a demonic figure standing up from under a sheet to walk towards our unknowing protagonist, or a young girl shaking with fear because someone (or something) big just sprinted up the stairs of her house and jumped into the lower bunk of her bed, Annabelle: Creation knows how to get an audience riled up. It imbues the film with a type of energy that no other genre can deliver, and it requires a full theater setting to really get the full force of David F. Sandberg's work on the project.
Think about it; there's a long history of horror movies inducing this type of response among audiences. Virtually every installment in The Conjuring universe has managed to deliver it, and we saw it earlier this year when Jordan Peele's Get Out debuted in theaters. It's refreshing because quite a few recent horror romps (such as It Comes at Night) have opted to take far more nihilistic approaches to their subject matter. Annabelle: Creation is not a reflective film; it's a roller coaster in which the only real objective is survival. It's a good, old-fashioned scary movie in the vein of the Wes Craven or John Carpenter tradition, and that's the sort of spectacle that you're not going to want to miss out on.
Beyond all of that, it's worth mentioning that you shouldn't let the (somewhat lackluster) legacy of the first film taint your opinion of the franchise. Annabelle: Creation is an improvement over 2014's Annabelle in almost every way, and it's a terrifying fresh start for this corner of The Conjuring universe. If you find yourself hesitant to check this movie out because the first film let you down three years ago, then put those worries to rest right now. Annabelle: Creation not only stands on its own but it also retroactively enhances the mythology of the titular doll in pretty much every conceivable way.
The fact that many people don't even bother to go to the movies anymore is not lost on us. We have reported extensively on the phenomenon, and the reasons that people don't go to the movies anymore range wildly -- from rising ticket prices to the availability of alternative content on home entertainment platforms. That said, if you have found yourself growing cynical of the typical movie theater experience, then there's an excellent chance that Annabelle: Creation will restore your faith in the old model -- especially if you're already fond of horror movies.
Annabelle: Creation is now in theaters. Do yourself a serious favor and check it out on the big screen to get the full experience of David F. Sandberg's delightfully fun horror romp. However, there are still plenty more great films set to debut this year (such as Andres Muschietti's upcoming IT adaptation) so make sure to take a look at our movie premiere guide to keep yourself in the loop on all of 2017's most highly anticipated silver screen debuts!
Your Daily Blend of Entertainment News
Originally from Connecticut, Conner grew up in San Diego and graduated from Chapman University in 2014. He now lives in Los Angeles working in and around the entertainment industry and can mostly be found binging horror movies and chugging coffee.