15-Year-Old Girl Arrested At Movie Theater After Headbutting A Sheriff's Deputy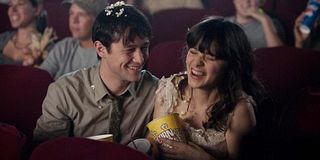 Generally when we think about theaters, we think about things like popcorn, comfy chairs and emotional viewing experiences. Plus, the occasional annoyance of a person texting in the middle of a movie. However, we don't often think about violence, except on the rare occasions, such as this weekend, when violence erupts at the movie theater. In the case of this weekend's story, a 15-year-old girl was arrested after headbutting and even trying to bite a deputy.
On just another Friday night in Salisbury, Maryland moviegoers at Regal Cinemas 16 were treated to more of a "show" than they were likely asking for. A 15-year-old, who has been unnamed because she is a minor, allegedly started a fight with another patron which resulted in the knocking over of a sign. She continued behaving in an agitated manor toward the movie staff, resulting in a deputy being called to the scene. And that's when things started to get really intense.
Once the deputy showed up on the premises, The Wicomico County Sheriff's Office says the situation escalated. The teenage girl grew angrier and angrier when dealing with the deputy and reportedly became "belligerent," even going so far as to make racially disparaging remarks. Next came elbow strikes and attempts to butt the deputy with her head. Yes, headbutting was involved. The report from the department says she went so far as to try and bite the Deputy on duty, which was probably not what he was anticipating when he was called by the management at Regal Cinemas.
Adjudication is pending, and the 15-year-old girl has been released to a guardian while she waits to face assault charges. This isn't the first incident we've heard about in recent months at movie theaters either. Employees at a theater in Georgia recently bamboozled theatergoers out of thousands of dollars, mostly in bills from the gas station. Another man was arrested this summer after trying to con free popcorn out of a theater. And this spring, a man was actually stabbed inside a Southern California movie theater after a seat kicker stabbed the person whose seat she was kicking. Thankfully, most of these are one-off incidents, and the theater is usually still a safe place to go for recreation--and depending on where you live right now, the insanely hot temperatures that tend to permeate in August.
We're entering a period at the movies where most of the big summer blockbusters have already been released. We'll start getting more of those big entries around the holidays, but if you do want to bravely go to the theaters in the meantime, there's still quite a bit that you can check out. You can take a look with our full movie premiere schedule.
Your Daily Blend of Entertainment News
Reality TV fan with a pinch of Disney fairy dust thrown in. Theme park junkie. If you've created a rom-com I've probably watched it.