Why Murder On The Orient Express Shot Many Of The Actors' Most Intense Scenes On Their First Day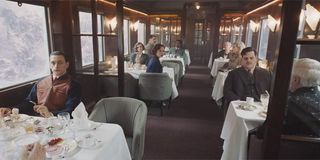 Murder on the Orient Express is a story of murder, of shrewd detective work and, of course, of secrets. These secrets are at the crux of the narrative and director Kenneth Branagh wanted the actors to bring a kind of nervous energy to the big screen. To do that, he asked the actors as much as possible to film their most intense scenes on the first day they were shooting. When asked about why, Branagh had a thoughtful response.
When a new movie--not necessarily a sequel but a new movie--starts coming together, it's easy to see why there might be antsiness on set. The actors don't always know their characters well on the first day. They aren't as comfortable on set as they may be later on, and they likely don't know the crew well yet, either. If there are scenes where the actors need to come off as nervous and uncomfortable, the first day is probably a great day to force those scenes, but not everyone was happy with it.
In fact, Penelope Cruz told EW that she tried to convince Kenneth Branagh that filming those intense scenes on the first day was not a great move. Cruz, who plays Pilar Estravados in the upcoming movie, tried to convince Branagh to do the scenes later on during filming, noting that "at least a week into the shooting" would be a better fit. But the director wasn't having it, for the reason listed above. Cruz shot her hardest scenes on the first day. She wasn't the only one.
If you are familiar with the original Agatha Christie tale, Murder on the Orient Express should be a familiar take on the classic mystery with a few changes. For instance, Cruz's Pilar Estravados is a take on Greta Ohlsson from Christie's original story. Antonio Foscarelli will also no longer be a character and will be instead be Biniamino Marquez, played by Manuel Garcia-Rulfo, etc etc. Hercule Poirot, of course, will be present in spades, so we'd guess you should continue to expect plenty of mustache wax and talk of little grey cells before the movie's runtime is up.
Luckily, we won't have too much longer to wait to see whether or not Kenneth Branagh's filming philosophy paid off. Murder on the Orient Express has already released a trailer for the Hercule Poirot classic murder mystery, and the movie is set to hit theaters on November 10. To find out what other intriguing movies are coming to theaters, take a look at our full movies premiere schedule.
Amazing Race & Top Chef superfan with a pinch of Disney fairy dust thrown in. If you've created a rom-com I've probably watched it.
Your Daily Blend of Entertainment News
Thank you for signing up to CinemaBlend. You will receive a verification email shortly.
There was a problem. Please refresh the page and try again.