Here's How You Can Watch My Neighbor Totoro In Virtual Reality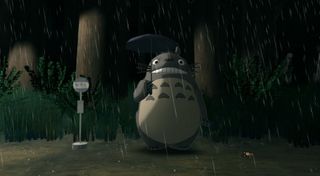 Fire Panda has worked on a three-part demo for the Oculus Rift and HTC Vive virtual reality headsets. The demos include the ability to walk through various popular scenes from Studio Ghibli's animes, including My Neighbor Totoro.
The Daily Dot is reporting that Fire Panda's demos are available right now for download over on their official website. If you have the HTC Vive or Oculus Rift, you can take a stroll through three different environments rendered in 3D from Studio Ghibli's movies, including My Neighbor Totoro, Spirited Away and Howl's Moving Castle.
The demo for My Neighbor Totoro is just a quick interactive scene from the movie that takes place at a bus stop where players will see the big cuddly creature standing in the rain with an umbrella. There's a cat bus that appears in the demo as well. YouTuber The Rift Arcade has a quick four and a half minute video of what the demo looks like and what you'll see if you have a Rift or Vive on hand.
The Howl's Moving Castle demo lets VR aficionados take a stroll through a flower field that was featured in the movie. Graphically, Fire Panda did a pretty neat job of making the field almost look like a cartoon come to life. I can only imagine how jarring it might be for some VR users trying to walk around in a world that has realistic movements but is completely designed with cartoon aesthetics.
The last of the demos is one of Spirited Away. It features a walk through the boiler room that was in the movie. There's a video from the YogsCast that you can check out below that quickly walks through the boiler room to get an idea of how it was recreated for the Rift and Vive.
The interesting thing about is that these demos were made back in 2014 before Fire Panda really took off. They were demonstrating their VR prowess on a Wordpress blog before eventually evolving into something bigger and better.
The demos have now recently been approved for distribution across the Oculus Store for the Oculus Rift. So if you want the official demos that are already keyed in to work with the consume retail editions of the Rift, you can head to the Fire Panda website or the official Oculus Store and grab the three demos for free. If you try to use the older demos from a few years back you might have trouble given that anything not pre-approved by Facebook doesn't work on the Oculus Rift unless you flip the software toggle to allow the headset to run unauthorized software. You wont have that problem at all with the HTC Vive.
Both headsets have launched but are currently on back-order as HTC and Oculus try to fulfill all the pre-orders for the HMDs. More headsets are expected to be made available this June.
Staff Writer at CinemaBlend.
Your Daily Blend of Entertainment News
Thank you for signing up to CinemaBlend. You will receive a verification email shortly.
There was a problem. Please refresh the page and try again.