Comedy Legend Jerry Lewis Is Dead At 91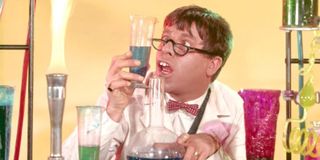 The world has gotten decidedly less funny today with the passing of an all-time comedy great. Jerry Lewis, whose performances have graced just about every modern medium, has died at age 91. He is survived by his wife of more than three decades, SanDee Pitnick, with whom he adopted a daughter, Danielle. Lewis also had five children from his first marriage, Gary, Scott, Ronald, Anthony, Christopher and Joseph. Joseph Lewis, tragically, passed away himself in 2009.
Jerry Lewis' road to stardom began in the late 1940s when he teamed with singer Dean Martin to become the comedy duo Martin and Lewis. The pair hosted an NBC radio series together until 1953 and, over the course of about a decade, starred together in more than a dozen big screen features.
After an amicable split, Dean Martin and Jerry Lewis found themselves in high demand for solo appearances. Lewis would go on to write, direct and headline big screen comedy classics like The Bellboy, The Ladies Man and, most famously, The Nutty Professor.
The most curious entry in Jerry Lewis' filmography is an unreleased drama called The Day the Clown Cried. Planned for release in 1972, the film was written and directed by Lewis and also features him in the lead, playing a German circus clown forced to work for the Nazi regime, distracting children as they are led to their deaths. Unhappy with the final film and worried that his intentions might be misconstrued, Lewis blocked The Day the Clown Cried's release. A copy was given to the Library of Congress in 2015, however, with the suggestion that it may finally see the light of day in 2025.
Jerry Lewis returned from a nearly two decade absence on the big screen, playing the title role, a down on his luck jazz pianist, in writer and director Daniel Noah's 2016 drama Max Rose. Released last year, Max Rose now marks Lewis' final role.
Beyond his iconic contributions to the world of entertainment, Jerry Lewis was well known as a humanitarian and philanthropist. Beginning in 1952, Lewis' name became synonymous with the Muscular Dystrophy Association. Over the next half a century, Lewis would host annual telethons to raise money for research and treatment. It was during some of these telethons that Lewis would quote a personal mantra from 19th century Quaker Missionary Etienne de Grellet.
Those words hold a particular weight today as journalist John Katsilometes confirms today's sad news. Whether it was his dual performances as Professor Julius Kelp and Buddy Love in The Nutty Professor, his hilarious contributions to Stanley Kramer's 70mm comedy ensemble It's a Mad, Mad, Mad, Mad World or even one of his memorable cameos over the years, it's a good bet that Jerry Lewis has, at some time, put a smile on your face. What's more, thanks to the eternal life the silver screen grants, the late talent should be able to continue to generate smiles for a long, long time to come.
Your Daily Blend of Entertainment News