The Best Fake Han Solo Movie Titles The Internet Has Come Up With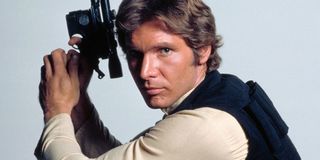 We're still without an official title for the Han Solo movie, and there are only nine months to go before the Star Wars story hits the big screen. Fortunately, the internet has decided to lend a hand, taking to social media to share plenty of possible titles for the upcoming Disney and Lucasfilm venture. We've taken a look at a few of the best and funniest posts, which you can check out below.
The Kessel Run (alternatively, The Kessel Runner in a few posts) is one of the most common suggestions and it's one of the fun choices that we can actually imagine becoming a reality. After all, there's not a whole lot of confirmed facts about Han Solo's life before the events of A New Hope. Exactly how the Corellian smuggler made the Kessel Run in less than twelve parsecs is one of those stories that been discussed among fans for decades. Of all the accounts to suggest The Kessel Run as a title, this is the only tweet to include some nifty Cannonball Run inspired fan art. Even if the film doesn't use a similar title, it's not hard to imagine the Han Solo movie taking a page from the 1981 ensemble comedy racing adventure.
The Fault in Our Death Stars is a great pun, but it's one that might be better suited as an alternate Rogue One title. Still, recent reports suggest that we're likely to see signs of Empire's ultimate weapon in the Han Solo adventure. Maybe Lucasfilm can take some inspiration from the fictional filmography of Alden Ehrenreich's Hail, Caesar! character, Hobie Doyle, and call the film That's No Lazy Old Moon.
There's something so peculiar and amusing about the title P.S. I Know and how it blends the 2007 Hilary Swank/Gerard Butler romantic comedy drama with a galaxy far, far away. While it's a pretty safe bet that P.S. I Know won't be the title of the Han Solo movie, I totally want to believe that's how Han signs his letters.
Another simple pun, Parsecs and the City makes for an interesting Han Solo movie title because it offers, in addition to referencing Han's legendary Kessel Run distance, a potential nod to Lando Calrissian and his future in Cloud City. With Donald Glover stepping into the Lando role for the May 25, 2018 release, we're looking forward to his presence on the big screen every bit as much as that of Alden Ehrenreich's Han Solo.
The Force Awakens revealed its title about 13 months before the film's release in 2015. The Last Jedi was announced in January, less than a year before the saga chapter's December 15 debut. As such, an official Han Solo movie title should be revealed very shortly, so check back soon for an official update.
Your Daily Blend of Entertainment News
Thank you for signing up to CinemaBlend. You will receive a verification email shortly.
There was a problem. Please refresh the page and try again.