One Major Guardians Of The Galaxy Vol. 2 Storyline Was Almost Very Different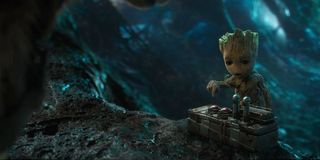 As the writer and director of the Guardians of the Galaxy films, James Gunn seems to have a pretty clear idea of what he wants given story to look like. However, that does not mean that his cosmic tales don't evolve as a film develops. In fact, Guardians of the Galaxy Vol. 2 is now on DVD and Blu-ray, and in the movie's commentary section Gunn reveals that he eventually changed Peter Quill to make him more resistant to Ego's charm in the first half of the story arc, explaining:
James Gunn's change to Guardians of the Galaxy Vol. 2's narrative actually reflects a fundamental tenet of screenwriting. Conventional wisdom dictates that the hero of a given story should initially resist the call to action (in this case, Ego's desire to get to know Peter Quill), but Gunn's first pass at the story featured Star-Lord willing to go along with his estranged father. By making Gamora the one who convinces Peter to go to Ego's planet, it creates a more natural jumping off point to dive into Act 2 (which begins once they decide to go) and enriches Peter's journey to become closer to his dad before all hell breaks loose.
Aside from helping make the dynamic between Ego and Peter Quill more compelling, the change also helped to deepen Gamora's character in ways not necessarily seen during the events of the first Guardians of the Galaxy movie. The green-skinned badass has daddy issues of her own (in case you've been living under a rock, her dad is Thanos), and her willingness to extend an olive branch and bridge the gap between Star-Lord and Ego (whether intentional or not) seems to show where she mentally is during the events of Vol. 2. She has had her own parental problems but really tried to make it work for her teammate. Gunn seems to think that this one change makes the story work better for everyone, and it's hard not to see his point.
Guardians of the Galaxy Vol. 2 is now available on DVD, Blu-ray, Digital HD, and 4k. As for the future of this cosmic band of misfits, The Guardians will make their next Marvel Cinematic Universe appearance when they show up to face off against The Mad Titan in The Avengers: Infinity War on May 4, 2018.
Originally from Connecticut, Conner grew up in San Diego and graduated from Chapman University in 2014. He now lives in Los Angeles working in and around the entertainment industry and can mostly be found binging horror movies and chugging coffee.
Your Daily Blend of Entertainment News
Thank you for signing up to CinemaBlend. You will receive a verification email shortly.
There was a problem. Please refresh the page and try again.