If This Is The Obi-Wan Movie's Working Title, It May Mean The Perfect Time Period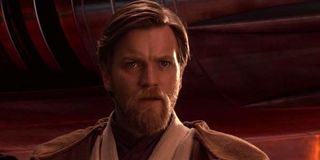 After the Han Solo movie premieres next year, Star Wars fans won't be treated to another Anthology spinoff until 2020. Lucasfilm hasn't officially announced what this spinoff will be yet, but last week, it was reported that the long-rumored Obi-Wan Kenobi movie is indeed in development, and Billy Elliot's Stephen Daldry is in talks to direct and oversee the development of this project. Now there's word that the Obi-Wan movie may already have a working title, and if this title is legitimate, it could allude to the story being set on Tatooine sometime after Revenge of the Sith.
According to a production listing for the Obi-Wan Kenobi movie that was uncovered by Omega Underground, the project's working title is Joshua Tree. At first glance, that may not seem at all important, and there are certainly cases where a major movie's working title doesn't correlate at all to the actual title or anything plot-related. However, as the report also noted, Joshua Tree could be referring to the Joshua Tree National Park, which is in southeast California. Like Death Valley National Park, which is where A New Hope and Return of the Jedi shot some of its Tatooine scenes, Joshua Tree National Park is a desert environment. So perhaps by using that as a working title, it's subtly hinting that not only could this movie be shooting there, but more importantly, the story will be based on Tatooine, and we'll reunite with Obi-Wan in the period between the Prequel and Original Trilogies.
No official details for the Obi-Wan Kenobi movie have been revealed yet, including whether or not Ewan McGregor will reprise the Jedi Master. However, there are two main time periods this Anthology spinoff could use. The first is showing Obi-Wan's time as an Padawan pre-A Phantom Menace (which the Jedi Apprentice books under the non-canon Legends banner covered) and the second is following him during his exile on Tatooine years before A New Hope. Given how much time has passed since Revenge of the Sith's release and McGregor having expressed interest several times to play Obi-Wan again, setting this movie on Tatooine during the Empire's reign seems like the more logical choice.
Nearly 20 years passed between when Obi-Wan Kenobi gave the infant Luke Skywalker to Uncle Owen and Aunt Beru at the end of Revenge of the Sith and when Obi-Wan saved Luke from the Tusken Raiders in A New Hope. Admittedly, Tatooine isn't the most interesting place in the galaxy far, far away, but it wouldn't be absurd to assume that Obi-Wan got wrapped up in at least one adventure during his time on the desert planet, and this story could feel like the Star Wars equivalent of a western. If the hunch about the working title is correct, that's probably what we'll get.
Stay tuned to CinemaBlend for more news on how the Obi-Wan Kenobi spinoff movie is progressing. In the meantime, you can look forward to seeing Star Wars back on the big screen when The Last Jedi is released on December 15.
Connoisseur of Marvel, DC, Star Wars, John Wick, MonsterVerse and Doctor Who lore. He's aware he looks like Harry Potter and Clark Kent.
Your Daily Blend of Entertainment News
Thank you for signing up to CinemaBlend. You will receive a verification email shortly.
There was a problem. Please refresh the page and try again.