Two Marvel Stars Have Signed On For A New Movie Together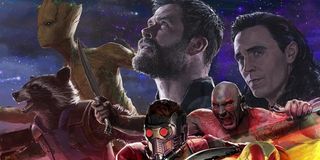 While it may be true that we're rapidly moving into a era of moviemaking where it's unusual not to have two Marvel Cinematic Universe actors in a single film, there's nevertheless a fanboy thrill in knowing that Thor is cross paths with Obadiah Stane. Both Chris Hemsworth and Jeff Bridges have signed on to headline Bad Times at the El Royale. The project, a thriller set in a hotel, hails from another creative talent with close ties to the MCU, Drew Goddard.
Although Drew Goddard's sole directorial feature to date is his delightful 2012 postmodern horror film The Cabin in the Woods (co-written with longtime collaborator and two-time Avengers helmer Joss Whedon), he has written and served as executive producer on Netflix's Daredevil and The Defenders. He's also reportedly serving as a script consultant on the upcoming Deadpool 2. Like that film, Bad Times at the El Royale is in development at 20th Century Fox, where Goddard will direct his own original screenplay. It is said to follow an ensemble of mysterious strangers whose fates all happen to intertwine one night in the 1960s in an old Lake Tahoe hotel.
Details on Bad Times at the El Royale are otherwise few and far between. The Hollywood Reporter's original story on Chris Hemsworth and Jeff Bridges' castings offer no details as to who either star might play in the upcoming film. In fact, it's noted that there appears to be an extra level of secrecy to this project. That's not entirely a surprise given the twists and turns of The Cabin in the Woods. It may very well be that outside of casting, we won't learn much about what leads to these Bad Times until the film itself arrives in theaters. With production set to begin in January 2018, it's likely on track for a 2019 release. Then again, we don't want to jinx it. Cabin was original supposed to be released in 2010 and didn't end up making it to theaters until more than two years after its originally announced date.
Anyone anxious to get a taste of Drew Goddard as director is encouraged to check out his small screen work on NBC's The Good Place. Goddard directed the show's pilot and serves as executive producer on the highly imaginative sitcom that, itself, is full of twists and turns. The entire 13-episode first season just became available to stream on Netflix with season two (set to feature three more Goddard-helmed chapters) heading to the network on September 20.
While this new film will mark Jeff Bridges' first time working with Drew Goddard, Chris Hemsworth took on one of his very first movie roles in The Cabin in the Woods. If Bad Times at the El Royale needs any other mysterious characters, can we suggest just about anyone from the cast of Cabin? With talent like Richard Jenkins, Sigourney Weaver and Bradley Whitford (among others), it's pretty hard to go wrong.
Your Daily Blend of Entertainment News
Thank you for signing up to CinemaBlend. You will receive a verification email shortly.
There was a problem. Please refresh the page and try again.