Why Iron Man Was A Difficult Experience For Jeff Bridges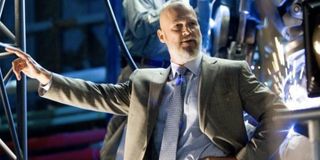 Iron Man is rightfully lauded for being the Marvel movie that emphatically kicked off their cinematic universe. But while Robert Downey Jr's confident, but wounded, performance as Tony Stark and Jon Favreau's mixture of comedy and action were traits that went on to become a mainstay of the Marvel Cinematic Universe, Jeff Bridges's Obadiah Stane didn't just fail to make it past the original, but has already been forgotten to history. And it turns out the Oscar winning actor of Crazy Heart isn't overly concerned that his performance in Iron Man is a minor footnote in his career, as he didn't have the best time working on the blockbuster.
Jeff Bridges made this admission during his appearance on Variety and PBS's Actors On Actors series, during which he rather excitedly chatted with his fellow Oscar winner Matthew McConaughey (Dallas Buyer's Club). During their wide ranging discussion Jeff Bridges admitted that Iron Man's vast script problems meant that the usually well-prepared actor had to adjust his process on the film. Jeff Bridges explained to Matthew McConaughey:
There were problems with Iron Man's villain from the very beginning of its development. The decision to ditch Iron Man's most famous nemesis, the Mandarin, who later went on to appear in Iron Man 3 (kind-of), was only made after Jeff Bridges was cast. Then it was decided that he'd play Obadiah Stane/Iron Monger. Originally Stane was only due to appear in the sequel, but The Crimson Dynamo made way so Jeff Bridges could shave his head and portray Stane.
Jeff Bridges previously acknowledged back in 2009 while promoting his turn in Crazy Heart that Iron Man didn't have a script, insisting that they only "had an outline." In order to figure out exactly what Jeff Bridges and Robert Downey Jr. would say to each other when cameras finally rolled they'd have to call up the screenwriters and ask, "You got any ideas?"
Somehow it worked, though. And, for most people, Iron Man was by far the best origin story for the Marvel Cinematic Universe. In fact just one quick watch of its trailer below will remind you of its cheeky majesty.
Jeff Bridges is back in awards season contention this year, thanks to his role in Hell Or High Water, which has seen him touted for a Best Supporting Actor nod. Hell Or High Water was released earlier this summer, and if you've not seen the thriller you need to immediately, because it's superb.
Your Daily Blend of Entertainment News