The Marvel Superhero District 9's Neill Blomkamp Would Like To Direct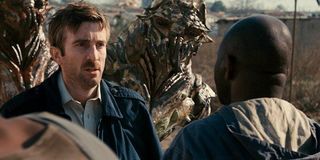 The Marvel Cinematic Universe has enlisted quite a few talented directors over the years, but there is still an army of auteurs waiting for their chance to dive into this behemoth franchise. In fact, it now looks like District 9 director Neil Blomkamp wants to take the baton from guys like Jon Favreau and Shane Black to direct a solo Iron Man movie. When asked by a fan about which Marvel hero he would like to tackle, the South African filmmaker wrote:ta
Looking at Neil Blomkamp's history as a filmmaker, as well as the types of movies that he directs, there's an easy case to be made that he can work as the director of an Iron Man movie. To date, his biggest films (District 9, Elysium, and Chappie) all seem to focus heavily on a proper blend of action and relatively grounded science fiction. That's precisely the sort of thing that people expect from a proper Iron Man movie -- along with some solid one-liners from the always entertaining Robert Downey Jr.
Beyond that, Neil Blomkamp's films have become notoriously good at blending CGI with practical effects. The robotic mech-suits seen in most of his films show case some of the best and most photo-realistic digital effects work that we have seen over the course of the last decade, which means there's no telling what he could do if offered a Marvel-sized budget and an opportunity to play in the Stark Industries workshop.
Just take a look at this scene from District 9 (which, mind you, is almost a decade old at this point) and try to imagine Wikus replaced by Tony Stark.
Finally, it's also worth mentioning that Neil Blomkamp could work because he has proven his nerd credentials in recent years. He has become a vocal champion of his ill-fated Alien 5, as well as an adaptation of the Halo video game series. While nobody has given him the opportunity to work in those established universes yet, his enthusiasm for these projects has arguably become pretty infectious for his fans. This is a guy who loves geeky comic book worlds, so it only makes sense to consider him for the job.
As much as we love the idea of Neil Blomkamp taking the reins in an Iron Man film, it's important to temper our enthusiasm with a healthy dose of skepticism. All the District 9 director has said with his remarks is that he wants to direct an Iron Man movie. That doesn't necessarily mean that Marvel is going to give him the job, and it also doesn't even necessarily mean that Tony Stark is getting a fourth standalone adventure anytime soon. That said, it's an idea that may never fail to intrigue us.
For now, Iron Man will make his next appearance in the Marvel Cinematic Universe when The Avengers: Infinity War blasts its way into theaters on May 4, 2018. Here's everything that we currently know about the upcoming superhero epic.
Your Daily Blend of Entertainment News
Originally from Connecticut, Conner grew up in San Diego and graduated from Chapman University in 2014. He now lives in Los Angeles working in and around the entertainment industry and can mostly be found binging horror movies and chugging coffee.