How Dave Bautista Felt About Working With Robert Downey Jr. On Infinity War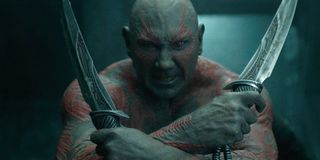 Next summer's Avengers: Infinity War looks to be many a Marvel fan's dream come true, crossing over a slew of characters from the Marvel Cinematic Universe in one massive superhero ensemble that will see the Avengers join forces with the Guardians of the Galaxy to take on Josh Brolin's Thanos and his Black Order. It's especially great to hear, then, that the stars are having just as much fun. Dave Bautista says that working with Robert Downey Jr. has been of incredible significance to him, having admired Downey's acting work for decades. He explains:
Speaking with EW, Dave Bautista goes on to say that actually working alongside Robert Downey Jr. was every bit as wonderful as he hoped it would be. The Guardians star was immediately approached by the Iron Man actor on the set of Avengers: Infinity War. It turns out that Downey was also a huge fan of Guardians of the Galaxy and wanted to specifically tell Bautista how great he was in the James Gunn film. As a huge fan, Bautista was both humbled and thrilled.
While there aren't many details on Avengers: Infinity War, there are even fewer on the mysterious 2019 followup. Dave Bautista's comments here would seem to indicate that we'll definitely see some crossover between Drax and Tony Stark next May. The star recently confirmed that he'll be back before the cameras in November to film scenes for Avengers 4. Whether or not Drax and Iron Man will get to be together remains to be seen.
Comic book readers should get an extra thrill out of Robert Downey Jr. being a Guardians of the Galaxy fan as, in the comics, so is Tony Stark. When Brian Michael Bendis and Steve McNiven relaunched the Guardians book in 2013, Iron Man joined the team with new armor designed to function in outer space. Outside of Stark, the Guardians lineup in that narrative is otherwise identical to the film version, including Star-Lord, Rocket, Groot, Gamora and, of course, Drax.
It's also worth pointing out that, while he wouldn't join the Guardians of the Galaxy for decades, Drax's very first comic book appearance was in the pages of a 1973 issue of Iron Man. That early version of Drax was quite different from the version that fans know today. The character's origin story had Drax the result of a recently killed human being's soul getting transferred into a warrior's body to use as a champion against Thanos. Given the Marvel Cinematic Universe's predilection for direct comic book homages, don't be too surprised if some of those more incongruous traits of the Drax character come into play on the big screen.
However Avengers: Infinity War ultimately ends up going down, you can keep up with the play by play with our full guide.
Your Daily Blend of Entertainment News
Thank you for signing up to CinemaBlend. You will receive a verification email shortly.
There was a problem. Please refresh the page and try again.